Insects and rodents can get inside your home without you knowing it, and they sneak in gradually. Here is our top 10 of house pests you could find in your home and how to get rid of them. 
Fruit flies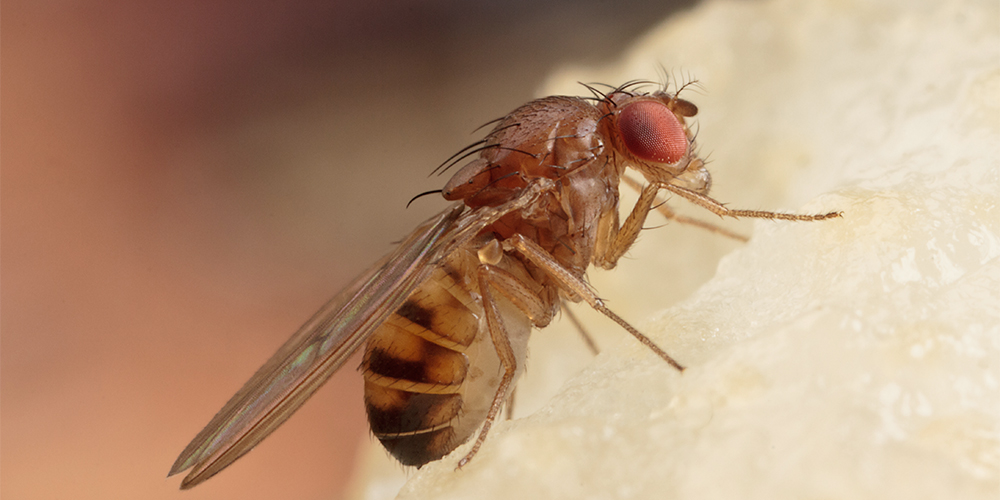 Fruit flies get in with the fruits and vegetables we buy in grocery stores. Then, they start looking for ripe or rotten fruits and vegetables as well as for fermented liquids like beer, wine and cider to breed.
To get rid of them, clean up your house: throw out garbage every day, wash dishes after use, discard the water after you've mopped the floor, clean counters and sinks, discard overripe fruits and vegetables, and avoid keeping empty cans and bottles indoors. 
This won't eliminate all flies but it will prevent proliferation. Then, install fly ribbons to catch them. 
Spiders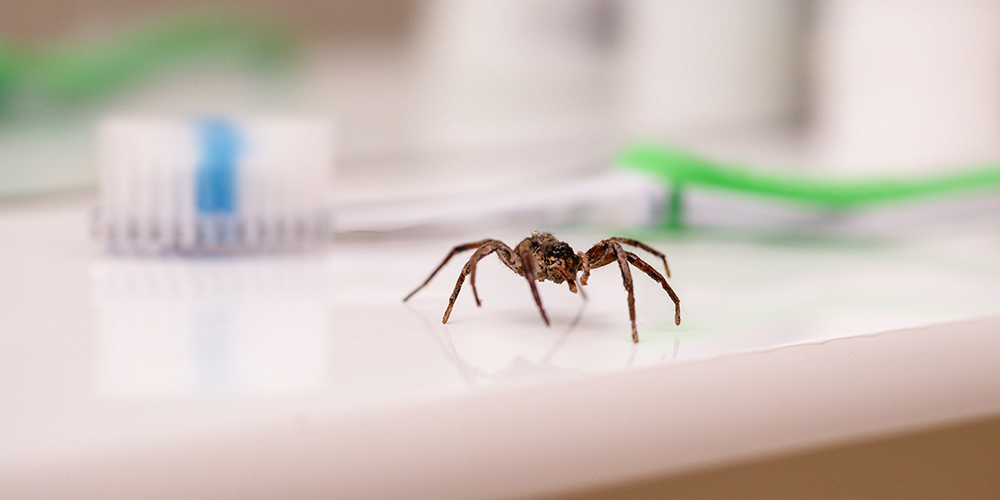 Spiders are common pests in our homes. There are over 48,308 species in the world. Interesting fact: only 5% of the spiders you see indoors come from outside.
Once again, cleaning up is an important step in keeping spiders at bay. In fact, they're looking for food, so the fewer insects there are, the fewer spiders will be seen. To prevent infiltrations, do not hesitate to apply a spot treatment indoors as well as outside around windows and doors.
Silverfish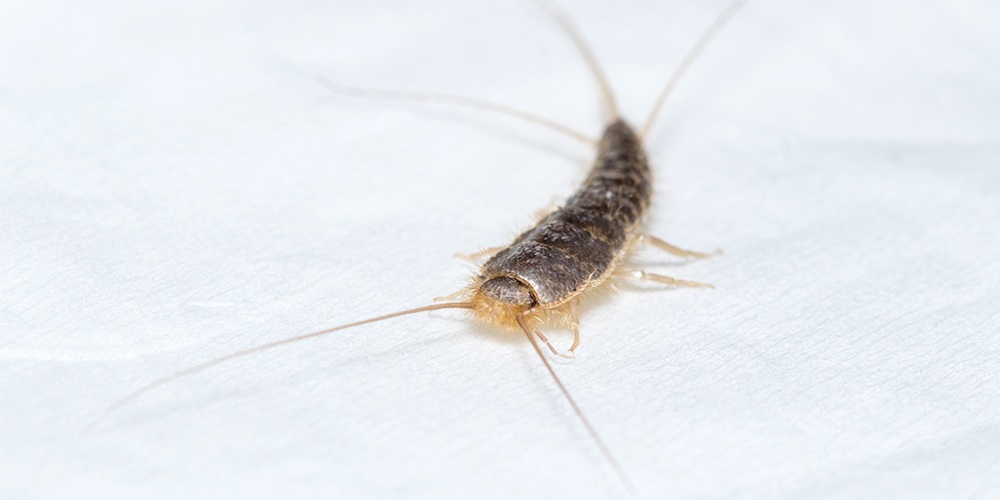 This  nocturnal, moisture-attracted insect can be found in bathrooms, kitchens and basements. Silverfish move very quickly and hide in tiny cracks, so they're very hard to see. 
To get rid of silverfish, you'll probably need to use some pesticide to treat the places where you've seen them. Also, look for signs of a high humidity level, such as condensation on pipes. Fix leaking faucets and check the ventilation in your bathroom and basement. 
Centipedes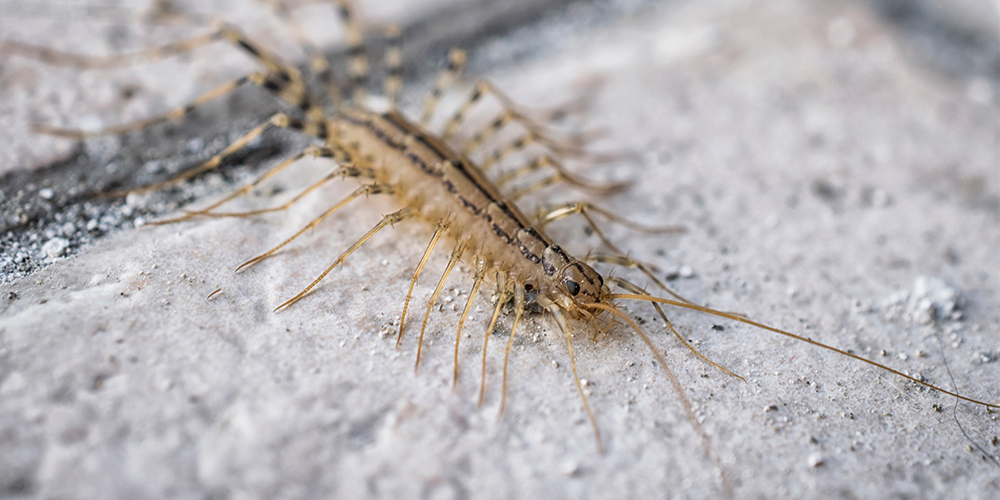 Centipedes are easily recognizable with their 15 pairs of legs and fangs. No need to worry though, the fangs are mainly used to kill other insects, which then become a meal. Centipedes can be found in humid places like kitchens and bathrooms. 

If you notice the presence of centipedes, it means there are other insects in your home. So you'll need to find them. Also, verify the humidity level where you've seen centipedes. A spot treatment will probably be necessary in cracks, under sinks, behind stoves and the refrigerator, and around windows. 
Cockroaches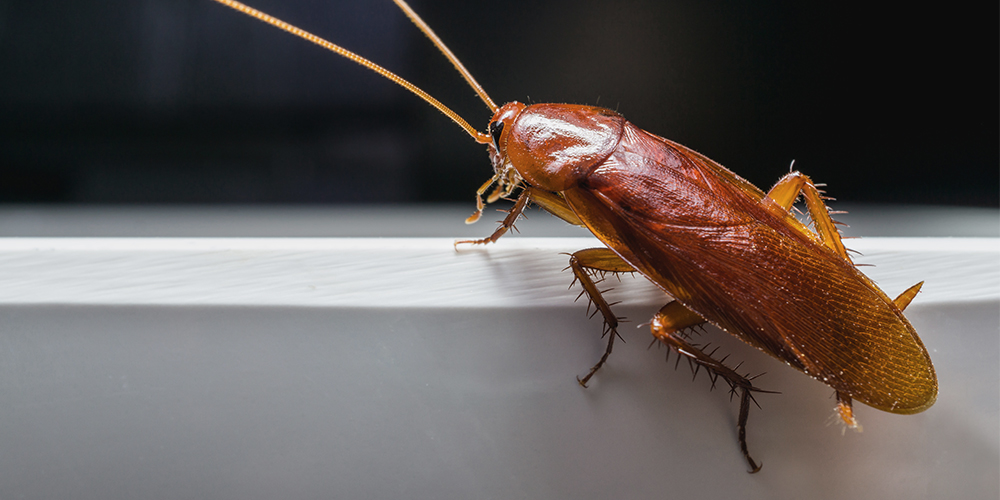 These nocturnal insects move very quickly and are therefore hard to catch. Cockroaches can carry bacteria and virus that can cause diseases in humans. They have six legs and wings, which they can't use to fly. Cockroaches feed on wood, leather, glue, toothpaste, soap and the food in our pantries. They can be seen in basements, kitchens, bathrooms and near sewer lines. 
The first step to get rid of them is to clean up your house on a regular basis. Restrict access to food by closing garbage cans tightly and not leaving dishes in the sink for too long. Then, spray insecticide under appliances and in cupboards,  along baseboards, around windows, under sinks, etc.
Bed bugs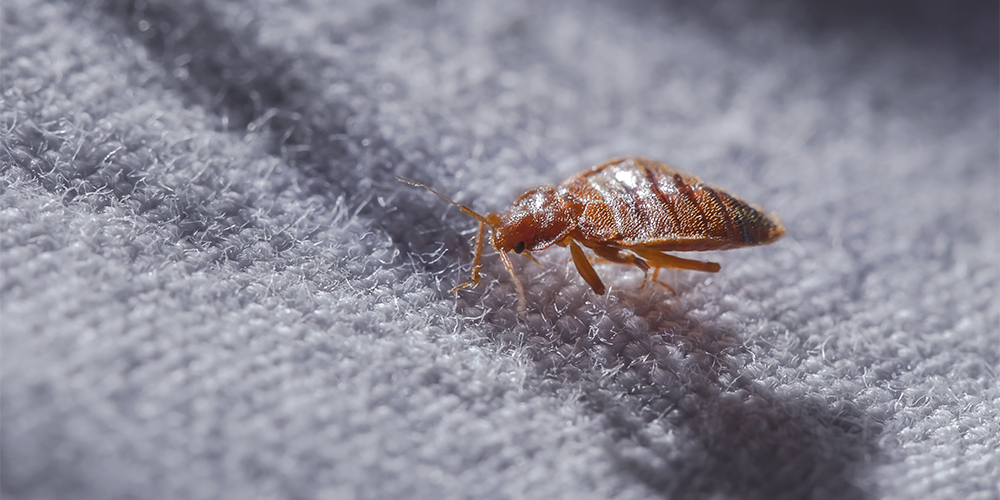 This flat, brown-red, oval-shaped insect hides from light in dark, hardly accessible places. Bed bugs can be found in box springs, mattress seams, head boards, bedroom furniture, drawers, armchairs, carpets, curtains, etc. 
To get rid of them, wash all bed sheets and blankets in warm water and dry at high temp. Vacuum mattresses and box springs, and in every room. Then, empty and clean your vacuum's bin. As bed bugs are resistant to several chemical products, it's important to use an insecticide specially formulated to control them. 
Larder beetles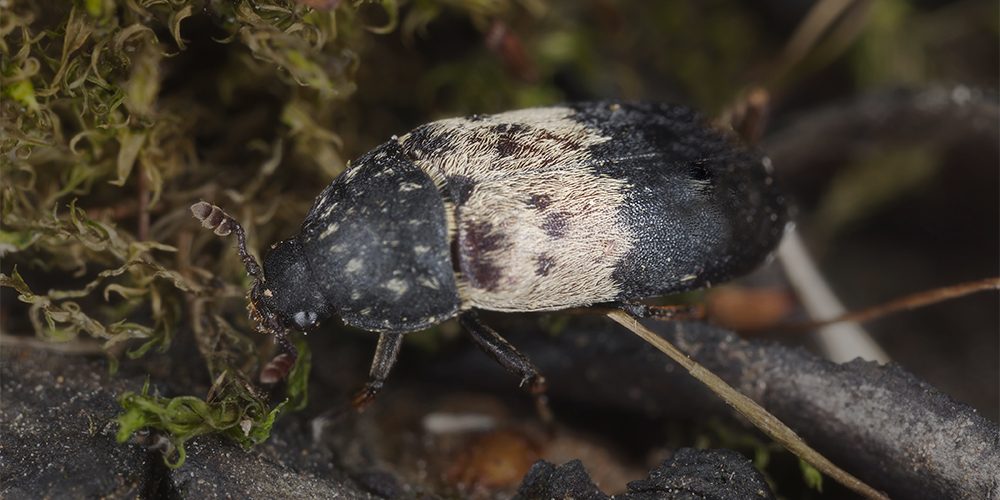 Larder beetles feed on animal oil, fat and proteins. They are part of the order Coleoptera. At the larval stage, they look like tiny, fuzzy worms, yellowish-brown in colour. At the adult stage, their body is oval-shaped, rather flat and hairy, and dark brown or black in colour. 
To regain control, start by inspecting your home thoroughly. Verify the contents of your pantry and cupboards. Clean up behind the stove, refrigerator, dishwasher and kitchen hood. Vacuum on a regular basis. 
Termites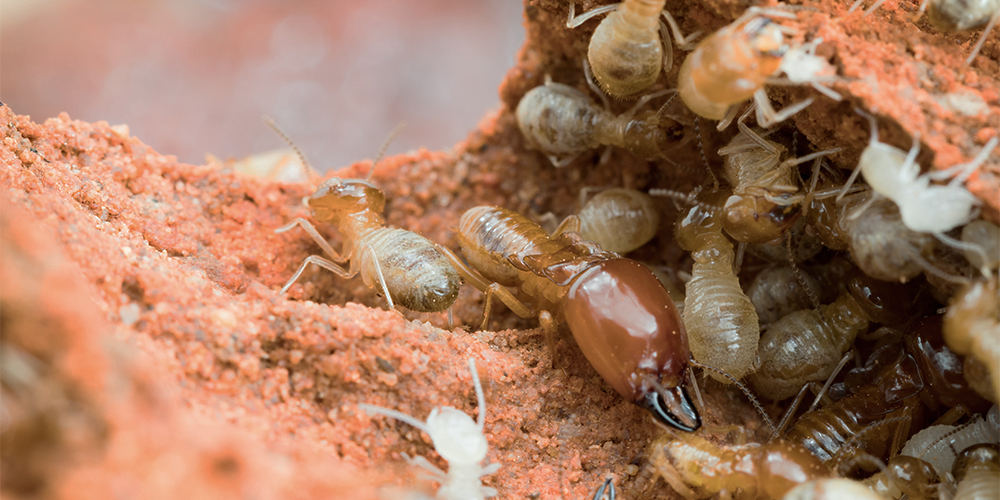 They love the dark and hide from the light. That's why they're so hard to see. Termites are nuts about the cellulose found in wood and are willing to go through other materials first to reach their meal. Termites look like ants, but they are cream white in colour and have straight antennae and a thick waist. 
When you notice termites, it's strongly recommended to ask a specialist to step in. 
Clothes moths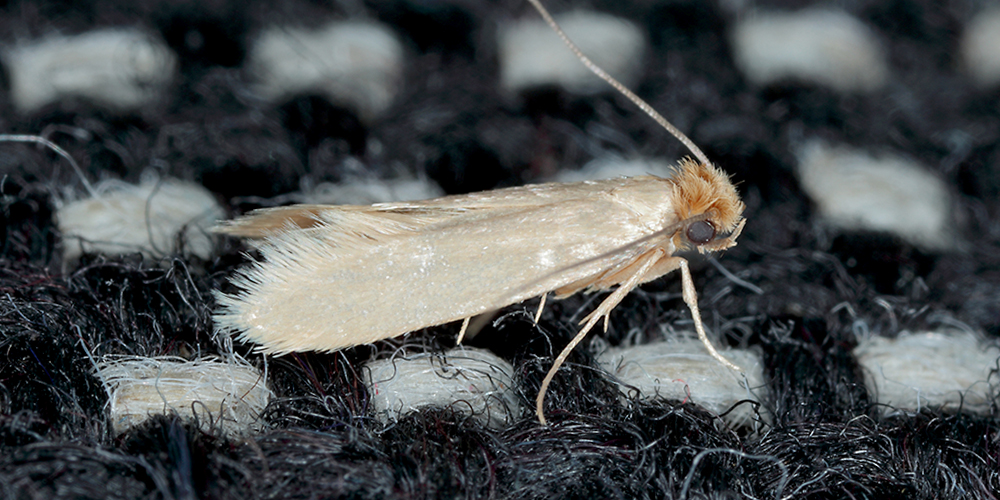 Clothes mothes are grey, dusty insects that are in the same family as butterflies. Their larvae nest in clothes and cause significant damage. They use the fibers to make their cocoon and feed. Often the larvae target wool, fur, silk, linen, cotton and carpets. 
If you notice holes in your clothes, it's probably clothes termites. To get rid of them, start by removing infested items from storage spaces and wash them at high temp. If it's not recommended to wash a specific item at high temp, place it in an airtight bag and leave it in the freezer overnight before washing it. Treat empty chests, wardrobes, drawers and other storage spaces with a spot treatment.  
Mice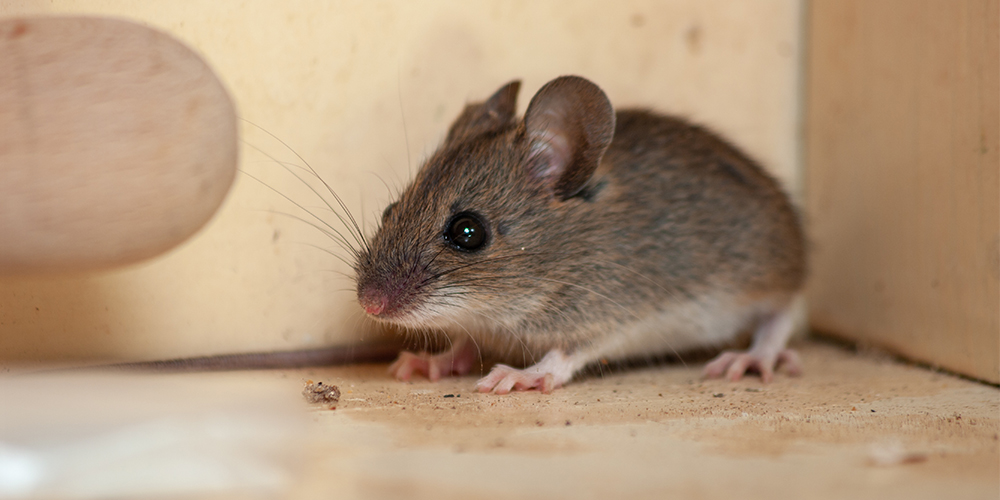 Mice can cause significant damage in the home. Their presence is often noticeable by the scratching we hear in the attic, walls and suspended ceilings. You'll most probably find droppings here and there as well.
Use bait stations and traps where they circulate (where you've found droppings, for instance). Verify traps every day and don't forget to store away the food sources that are easily accessible to them.