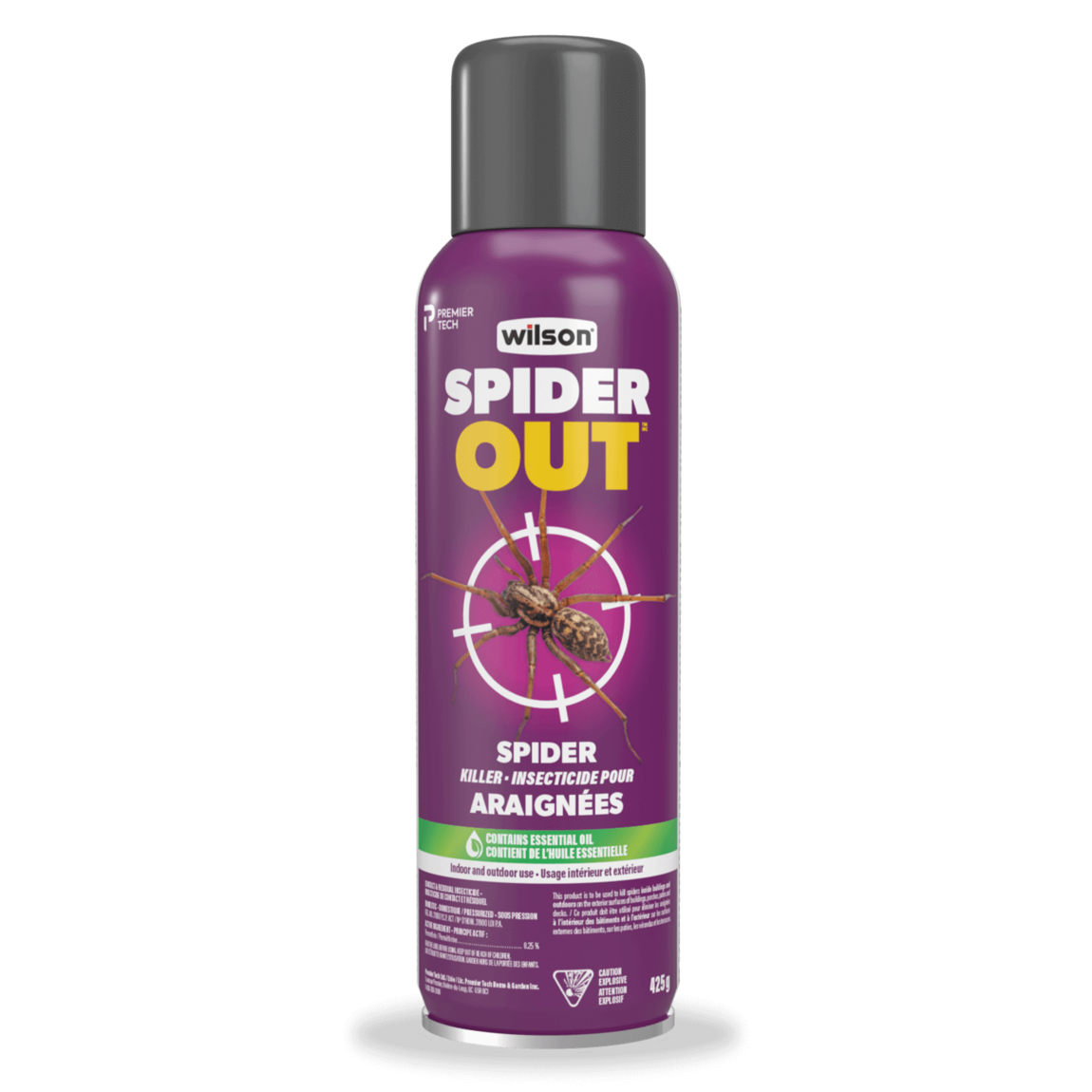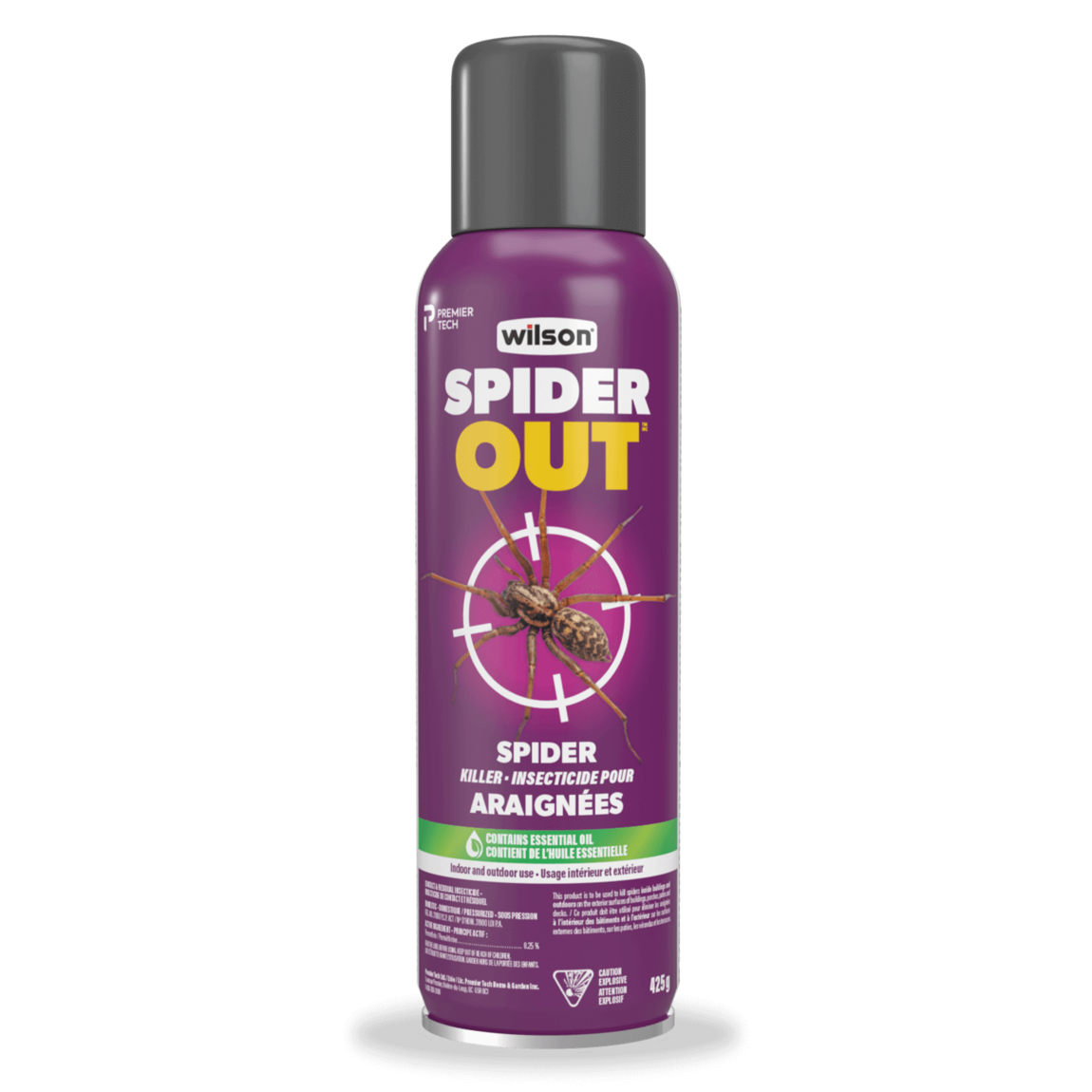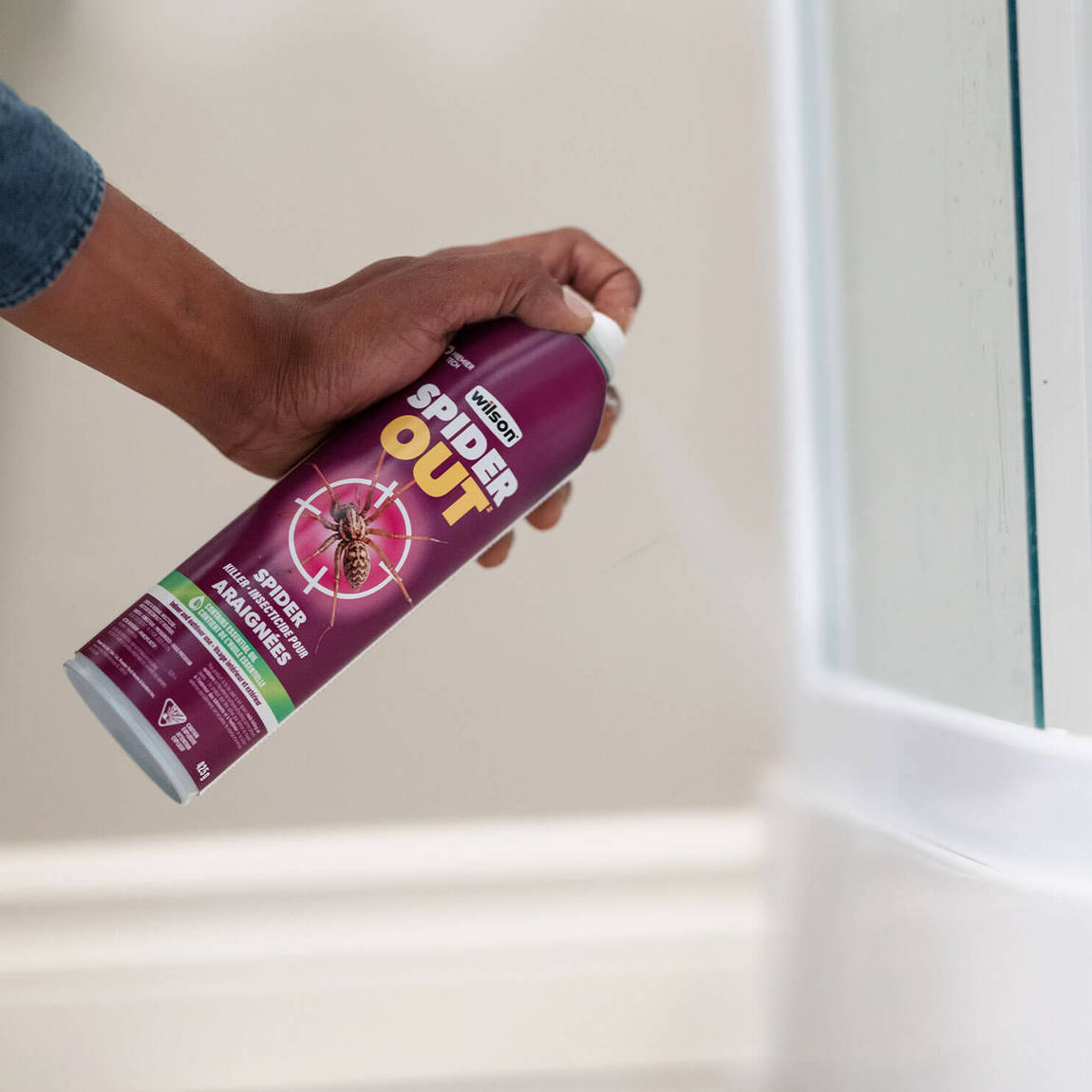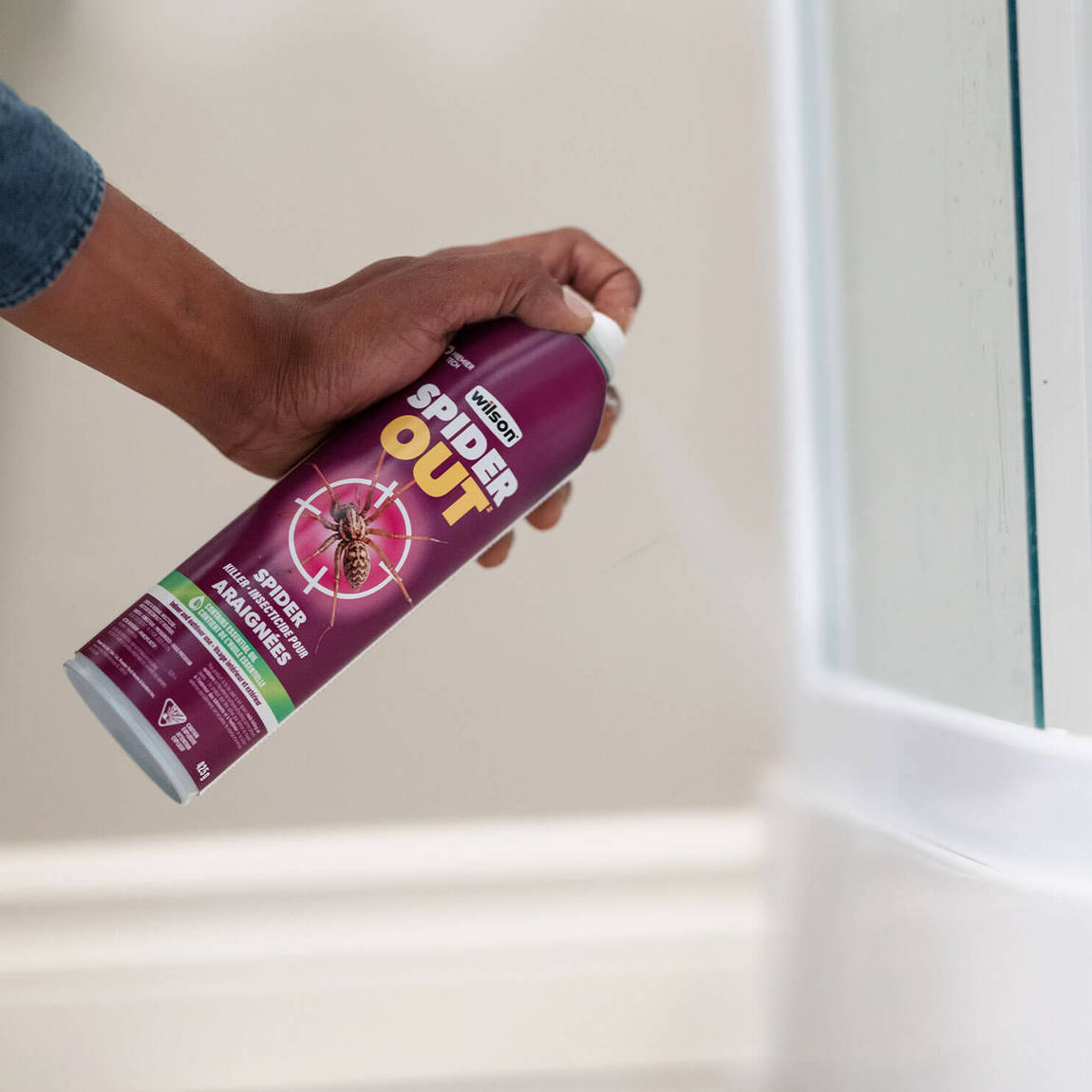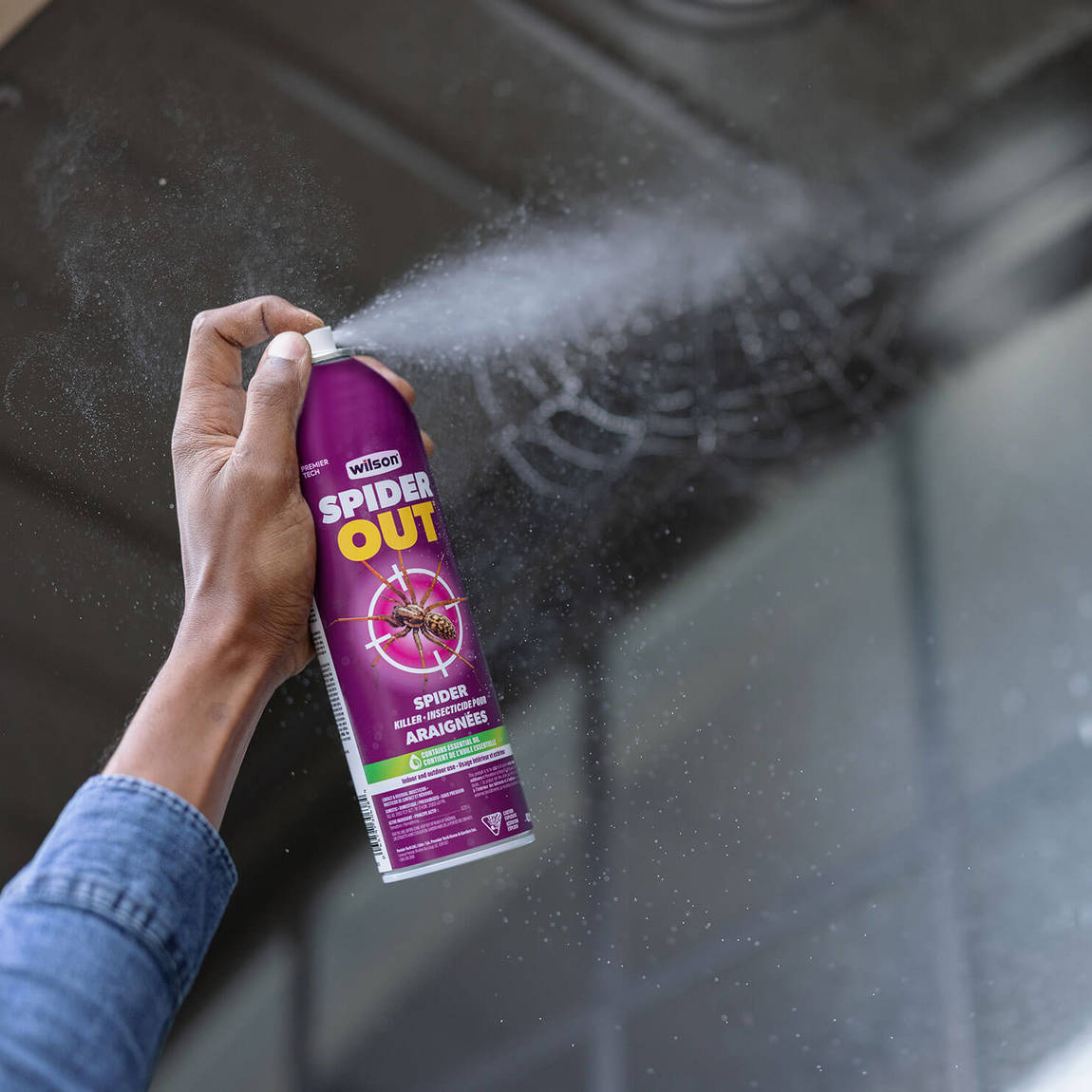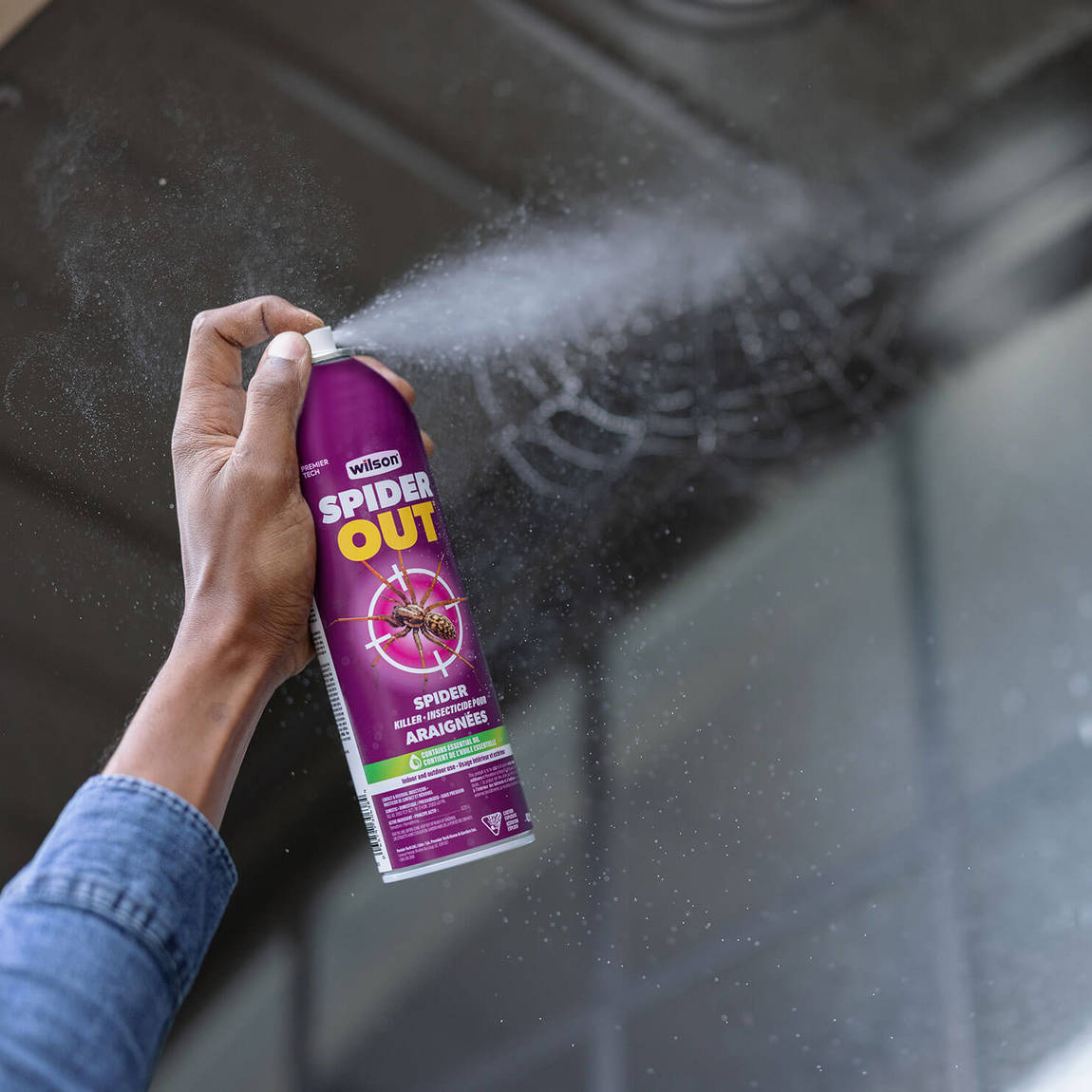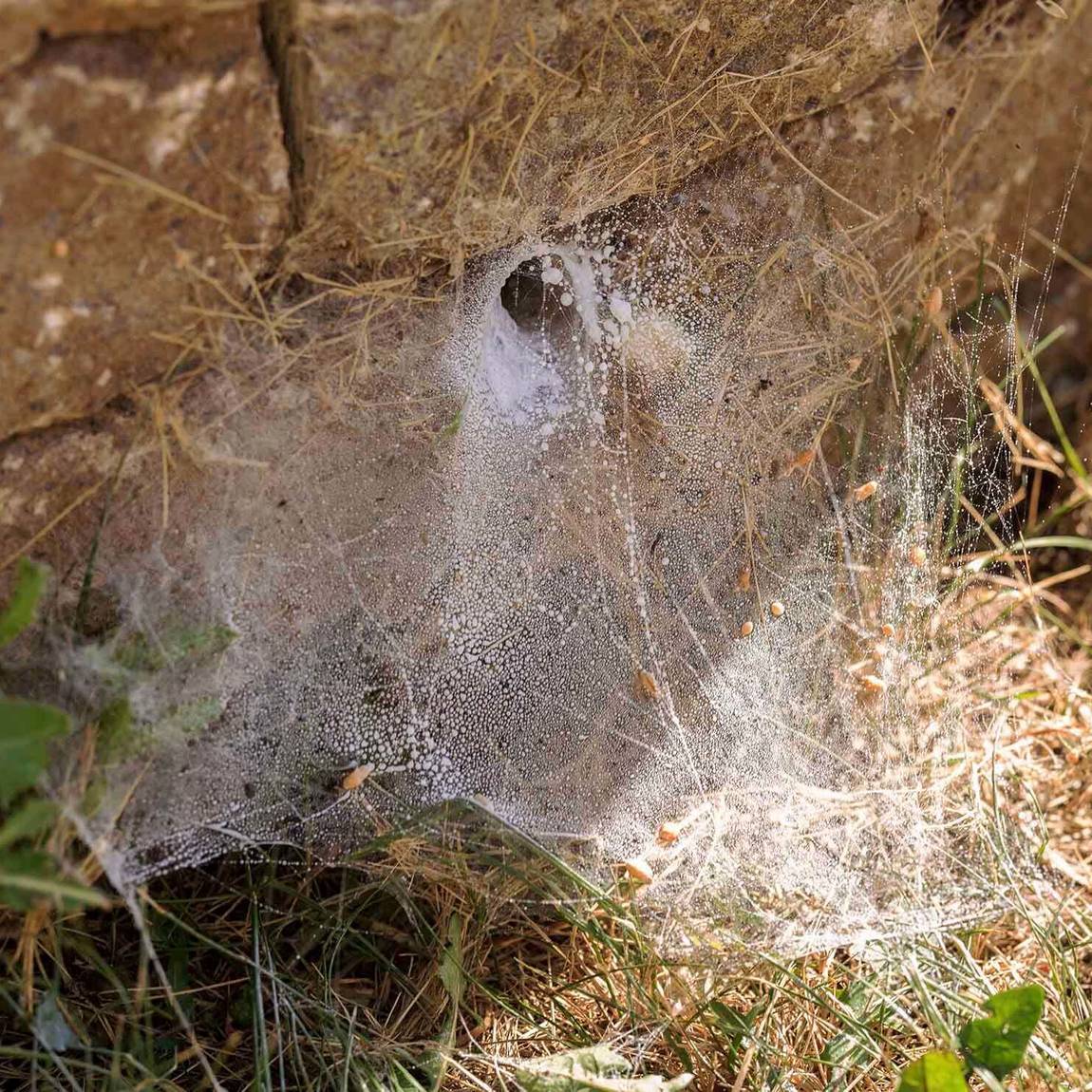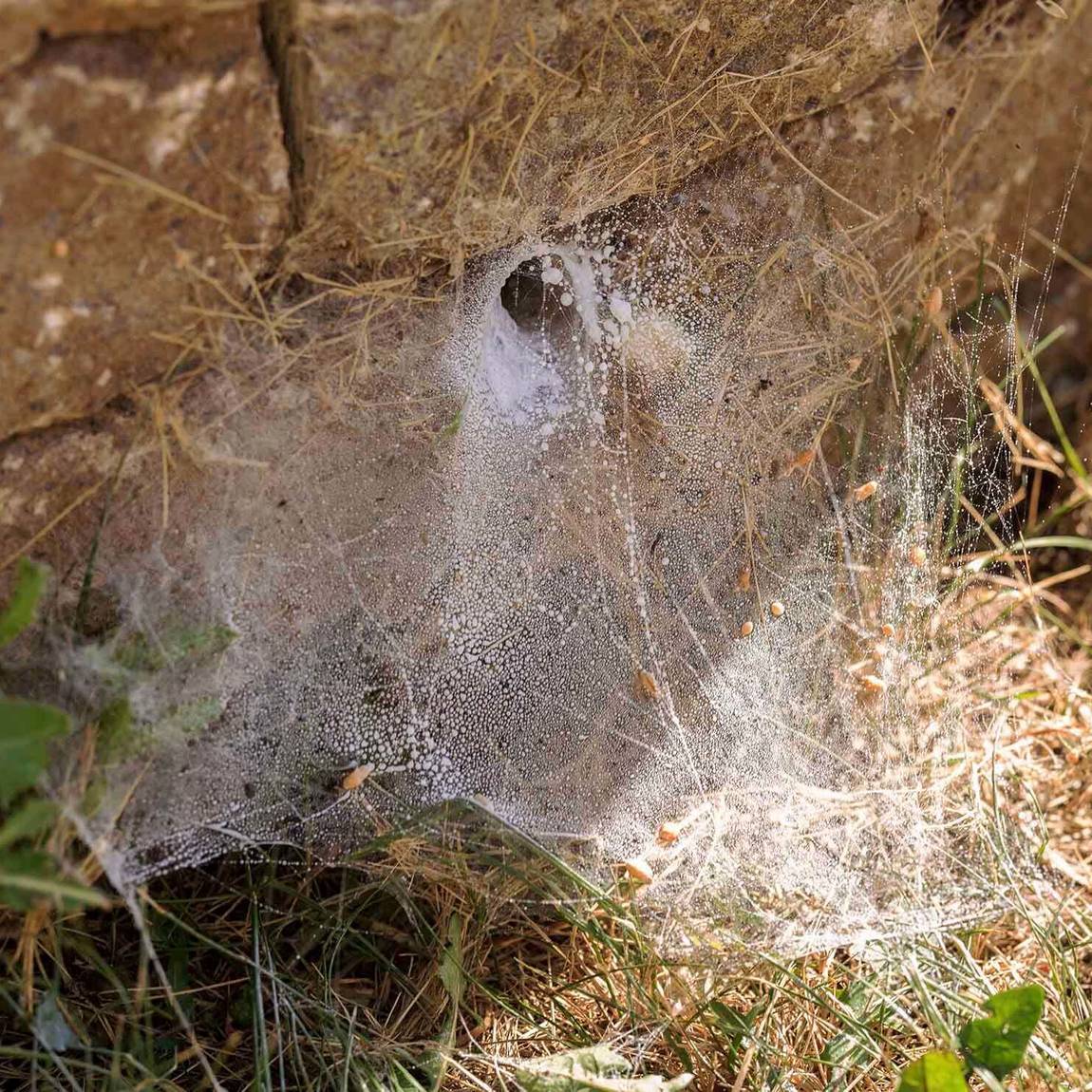 Wilson® SPIDER OUTTM

Spider Killer
Former name: Wilson One Shot Spiderban
Everybody likes to surf the Web but nobody wants to wander into tangled spider webs where flies, other insects and spider eggs are often trapped. This easy-to-use and ready-to-use aerosol spray kills spiders quickly with long-lasting effects residual effects can last a week or more), ridding your home and its surroundings of these pests. It can be sprayed from any angle, allowing you to reach those hard-to-reach places where spiders love to hide. It also contains essential oil of rosemary that leaves behind an abiding pleasant scent.
Contains essential oil of rosemary, leaving behind residual agreeable aroma
Contains essential oil of rosemary, leaving behind residual agreeable aroma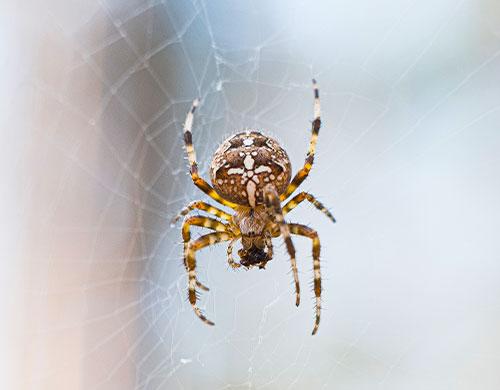 Step 1
Shake can well before using.
Step 2
Hold container approximately 30 cm from surface being sprayed.
Step 3
Apply sufficient spray to produce a coating that will vaporize into cracks and crevices for spider control.
Thoroughly treat indoor building surfaces, including cracks, crevices in walls, floors and ceilings, beneath furniture (e.g., shelves and drawers), along door sills, baseboards and openings around sinks, drains and pipes, behind stoves and refrigerators, around window frames, in localized areas of attics and basements, and around interior foundations.
For use outdoors on the exterior surfaces of buildings and on patios, porches and decks. Apply to the outside surfaces of foundations, under eavestroughs, around light fixtures, and places where spiders enter (e.g., screens, door frames, window frames).
Warnings
Ventilate treated areas after application by opening windows and doors or using fans where required to aid in the circulation of air.
Do not allow people or pets to enter treated areas until sprays have dried.
Avoid application of this product when winds are gusty.
Do not apply to overhead areas or in confined spaces (e.g., attics, crawlspaces, small storage rooms, closets). Do not apply as a space spray or broadcast application.
Do not apply in areas where plants are grown for food or feed (e.g., vegetables, fruits, herbs).
Do not apply to tapestries, wallpaper or similar materials that may stain. Do not apply to furniture, mattresses, linens, toys or clothing. Never apply to vinyl or aluminum siding while exposed to direct sunlight or during the heat of day.
Do not place in hot water or near radiators, stoves or other sources of heat. Do not apply to sources of electricity. Do not apply to any body of water.
When container is empty, press valve to release all remaining pressure.
Wrap in newspaper and discard empty container in household garbage.
Do not puncture or incinerate.
Do not contaminate irrigation or drinking water supplies or aquatic habitats by cleaning of equipment or disposal of wastes.
Keep from freezing. Do not store at temperatures over 50 °C.
For additional product information or in case of emergency, spills or fire, call toll-free 1-800-268-2608.
General precautions
Keep out of reach of children.
Wash hands thoroughly after handling and before smoking or eating.
Environmental: toxic to aquatic organisms, birds, bees and beneficial insects.
Hazards to humans
Can cause irritation to eyes. Can be harmful if ingested.
If on skin or clothing
Take off contaminated clothing. Rinse skin immediately with plenty of water for 15-20 minutes.
If in eyes
Hold eye open and rinse slowly and gently with water for 15-20 minutes. Remove contact lenses if present after the first 5 minutes, then continue rinsing eye.
If swallowed
Have person sip a glass of water if able to swallow. Do not induce vomiting unless told to by a poison control centre or doctor. Take container, label or product name and P.C.P. Registration Number with you when seeking medical attention.
If inhaled
Move person to fresh air. If person is not breathing, call 911 or an ambulance, then give artificial respiration, preferably mouth-to mouth, if possible.
In every case, call a poison control centre or doctor for treatment advice.
Frequently asked questions about Wilson SPIDER OUT Spider Killer
SPIDER OUT Spider Killer acts on the nervous system of spiders. It causes muscles to spasm, culminating in paralysis and death. It can be effective on spiders by direct spray contact or ingestion, and also acts as a mild repellent. It is very useful in spraying around doorways and windows, since SPIDER OUT Spider Killer will help in preventing invading spiders from crossing into your home.
Yes, when used as directed.
It kills spiders on contact. If applied in areas out of direct sunlight, it can have a residual effect for a week or more. If new spiders appear, re-apply in 7 days.
It is very fast. Kills on contact by direct spray and also by the residue left on cracks and crevices.
SPIDER OUT Spider Killer is very effective and long lasting. It can be used indoors and outdoors. Indoors, it can be sprayed on cracks and crevices in floors, walls, ceilings, along baseboards, around pipes and tanks,behind and beneath appliances and furniture, around sinks, drains and pipes, garbage containers, and points of entry (doors & windows). Outdoors, it can be used on surfaces of buildings, patios, porches, decks, eaves, awnings, canopies, light fixtures,and places spiders might enter (screens, doors, windows frames).
Haven't found the answer to your question?
We are here to help you!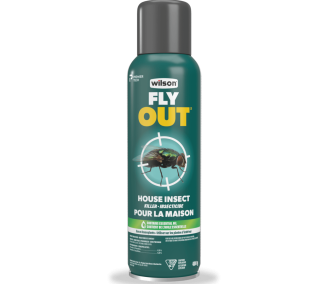 FLY OUT
Kill insects and get rid of pesky flies with this easy-to-use insect and fly-killer spray. Check Wilson's FLY OUT products now.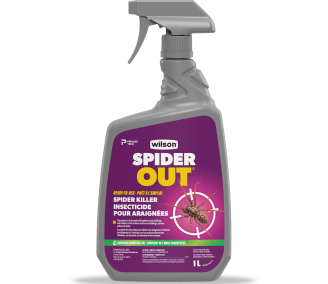 SPIDER OUT
Easy-to-use pump sprayer that kills spiders quickly with long-lasting effects indoors and outdoors. Perfect for cracks and crevices.