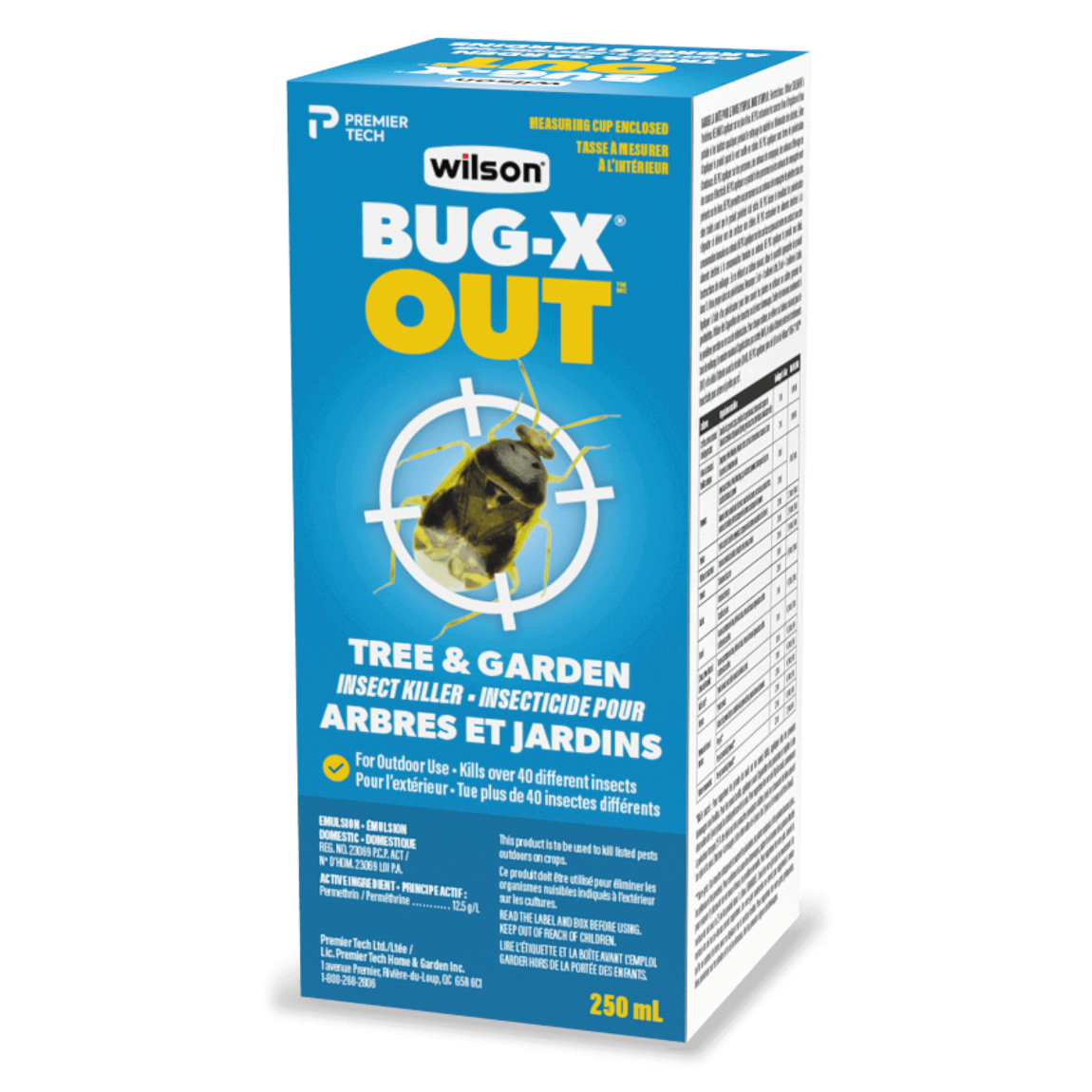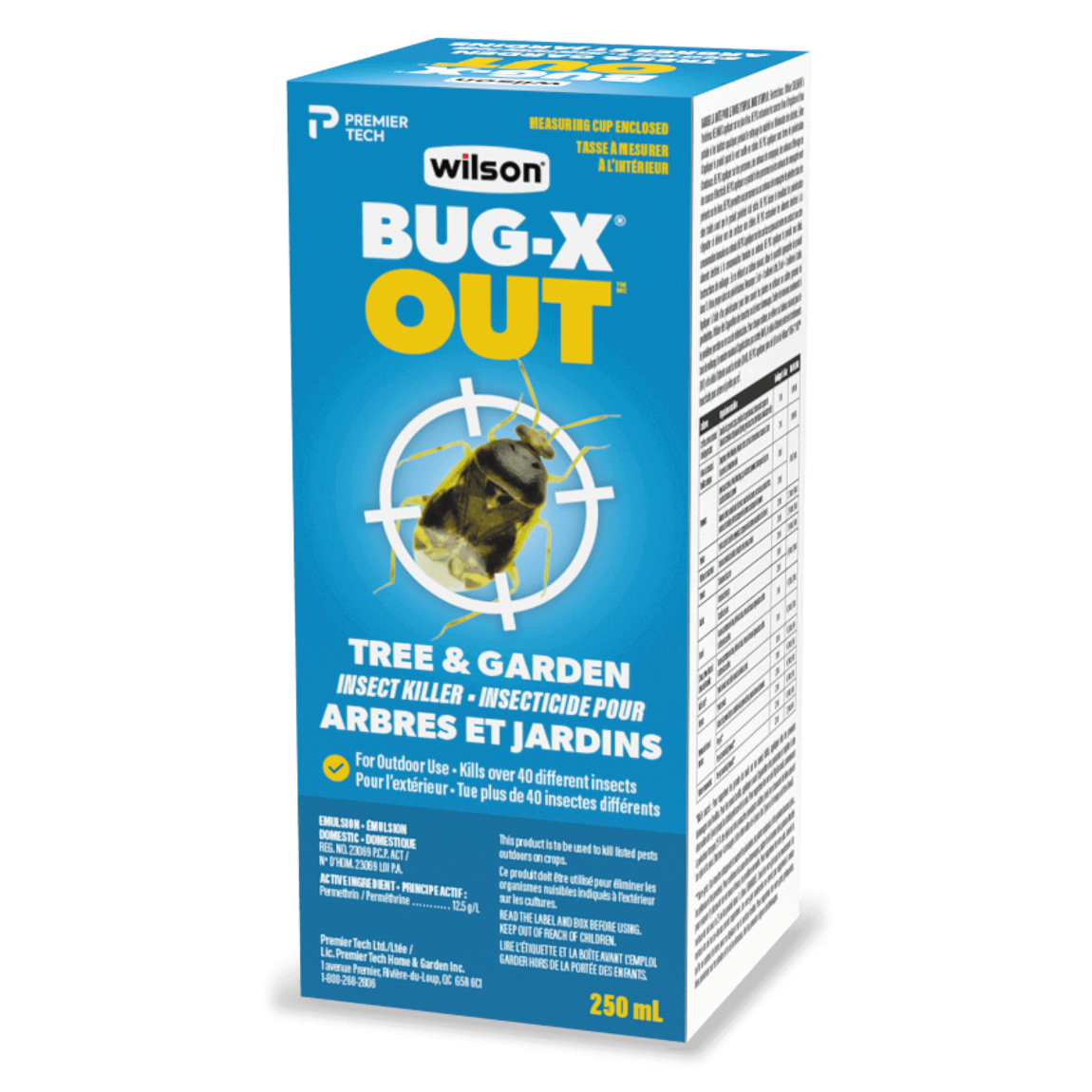 Wilson® BUG-X OUT®

Tree & Garden Insect Killer
Former name: Wilson Ambush Tree & Garden Insect Killer
Damaging insects on crops, ornamental and fruit trees, not to mention garden plants? You need BUG-X OUT Tree & Garden Insect Killer. It's a highly effective insecticide in concentrate form that kills more than 40 insects on contact with long-lasting effects. Used as directed, it is safe for people and pets.
Other application types available
Kills more than 40 insects
Kills more than 40 insects
Step 1
Depending on crop, different concentrations of the product must be used. Check label to verify crop and appropriate concentration.
Step 2
Dilute appropriate amount of concentrate in 1 L of water in a sprayer.
Step 3
Apply as a coarse spray with a sprayer to give a thorough coverage of plants. Do not apply more than 9.8 mL per m2.
Step 4
Treatment must only be repeated if pest problem persists or reoccurs.
Tips
Avoid application when heavy rain is forecast.
Apply when insects or damage are first noticed.
Warnings
Do not apply undiluted.
Wear protective gloves and long-sleeved clothing when handling product.
For outdoor use only. Avoid application of this product when winds are gusty.
Do not apply to any body of water. Do not contaminate irrigation or drinking water supplies or aquatic habitats by cleaning of equipment or disposal of wastes. Do not allow spray to drip or allow drift onto non-target surfaces.
Do not allow people or pets to enter treated areas until sprays have dried.
Triple rinse container into sprayer. Do not reuse empty container or measuring cup. Dispose of empty container and measuring cup with household garbage.
For additional product information or in case of emergency, spills or fire, call toll-free 1-800-268-2608.
General precautions
Keep out of reach of children.
Wear protective gloves and long sleeved clothing when handling product.
Avoid inhaling spray or contact with eyes, skin or clothing. Wash thoroughly after use and before eating, drinking and smoking.
Hazards to humans
Can cause irritation to eyes. Can be harmful if ingested.
If on skin or clothing
Take off contaminated clothing. Rinse skin immediately with plenty of water for 15-20 minutes.
If in eyes
Hold eye open and rinse slowly and gently with water for 15-20 minutes. Remove contact lenses if present after the first 5 minutes, then continue rinsing eye.
If swallowed
Have person sip a glass of water if able to swallow. Do not induce vomiting unless told to by a poison control centre or doctor. Take container, label or product name and P.C.P. Registration Number with you when seeking medical attention.
If inhaled
Move person to fresh air. If person is not breathing, call 911 or an ambulance, then give artificial respiration, preferably mouth-to mouth, if possible.
In every case, call a poison control centre or doctor for treatment advice.
Download safety data sheet link.
Environmental precautions
Toxic to aquatic organisms, birds, bees and beneficial insects.
Do not spray within 15 metres of any body of water.
To minimize possible contamination of groundwater, the use of spot treatment applications is recommended in areas where soils are permeable (e.g., sandy soil) and/or the depth to the water table is shallow.
Permethrin 12.5 g/L
Permethrin is a synthetic version of pyrethrins. Pyrethrins have long been known for rapid knockdown of insects. Although permethrin is more stable than pyrethrins, it is still degraded by the ultraviolet rays of the sun. This results in a relatively short residual life in the presence of sunlight. When protected from the sun, permethrin will provide residual/long-lasting activity.
Frequently asked questions
BUG-X OUT Tree & Garden Insect Killer contains permethrin which is an insecticide in the pyrethroid family. Pyrethroids are synthetic chemicals that act like natural extracts from the chrysanthemum flower. Permethrin can affect insects if they ingest it or touch it.and kills them by attacking their neurological systems.
Safe when it is diluted and used as directed. However, BUG-X OUT Tree & Garden Insect Killer in the container is a concentrated pesticide, designed for dilution of 1 part concentrate to 50-200 parts of water. It is made for outdoor use only. It is best to keep the concentrate out of reach of people and pets.
BUG-X OUT Tree & Garden Insect Killer is both a contact and a residual insecticide. Refer to the label, as the re-treatment interval is usually 7 days, if new insects arrive.
Yes, and it has a lasting effect for many days, affecting or repelling new insects.
It is. It kills many types of damaging insects found on ornamental and fruit trees, as well as those found on garden plants. Refer to the label.
Haven't found the answer to your question?
We are here to help you!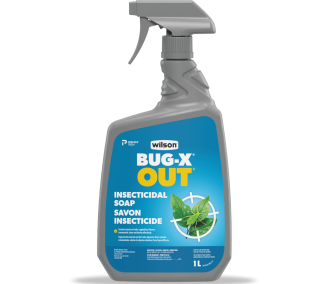 BUG-X OUT
A natural insecticide that's tough on bugs but easy on plants. Comes in an easy-to-use sprayer. Can be reused as necessary to provide continuous control.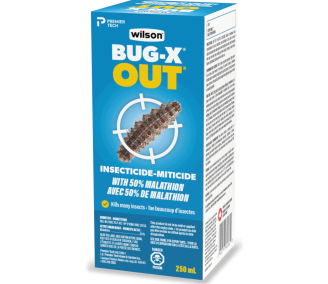 BUG-X OUT
Broad spectrum concentrate insecticide spray that kills more than 20 major insect pests.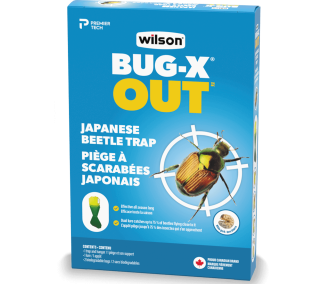 BUG-X OUT
Dual-attractant Japanese beetle trap that catches up to 5 times as many beetles as a floral lure alone.