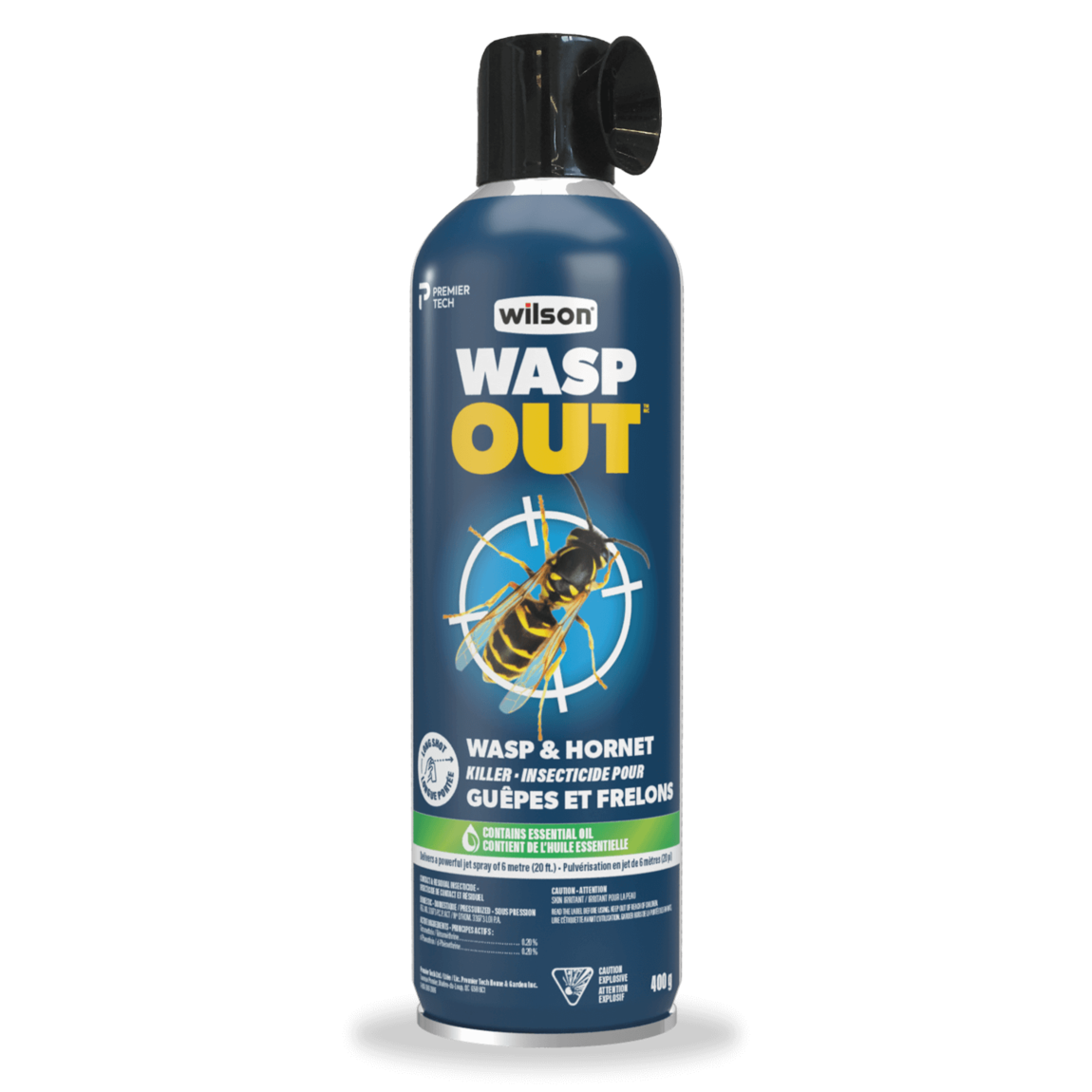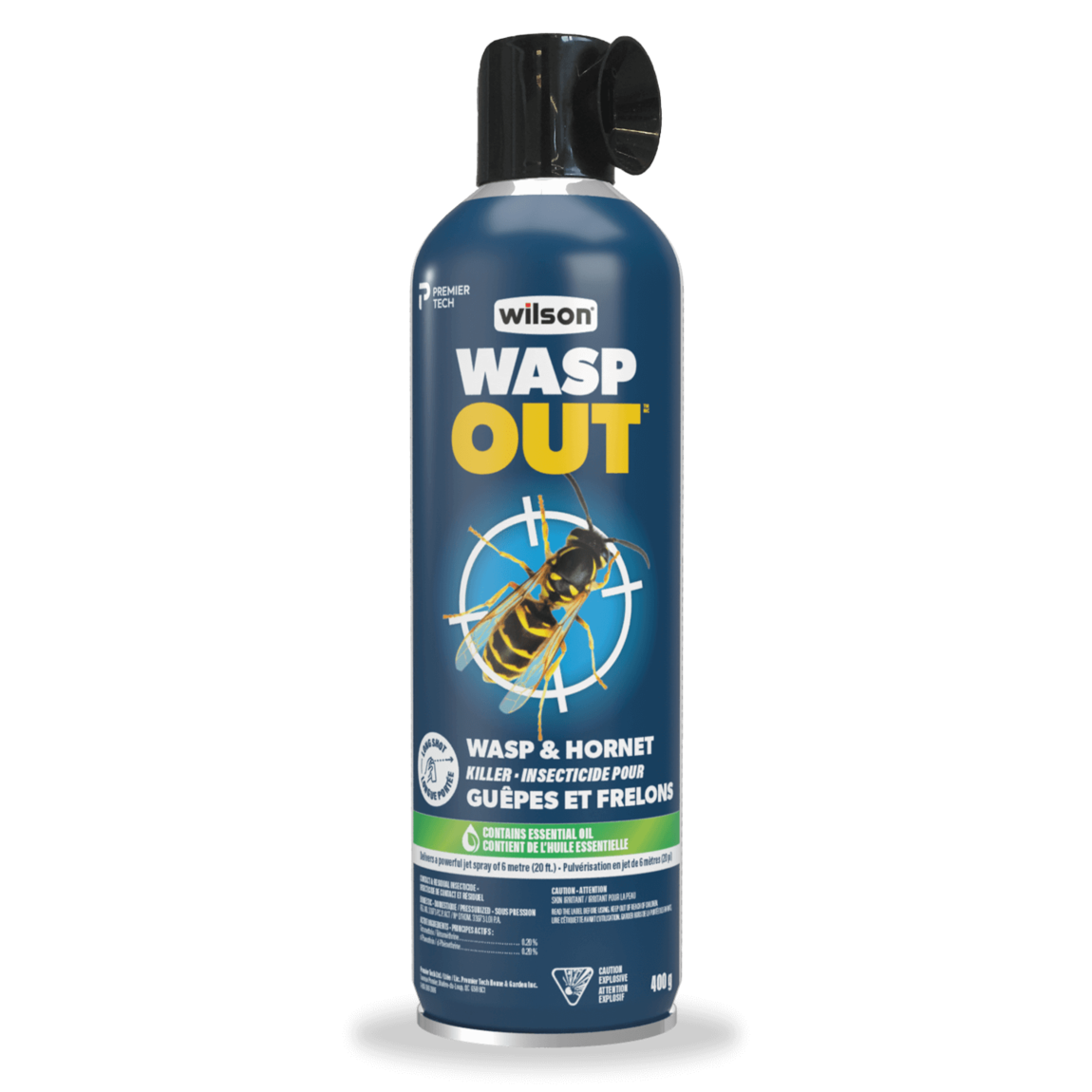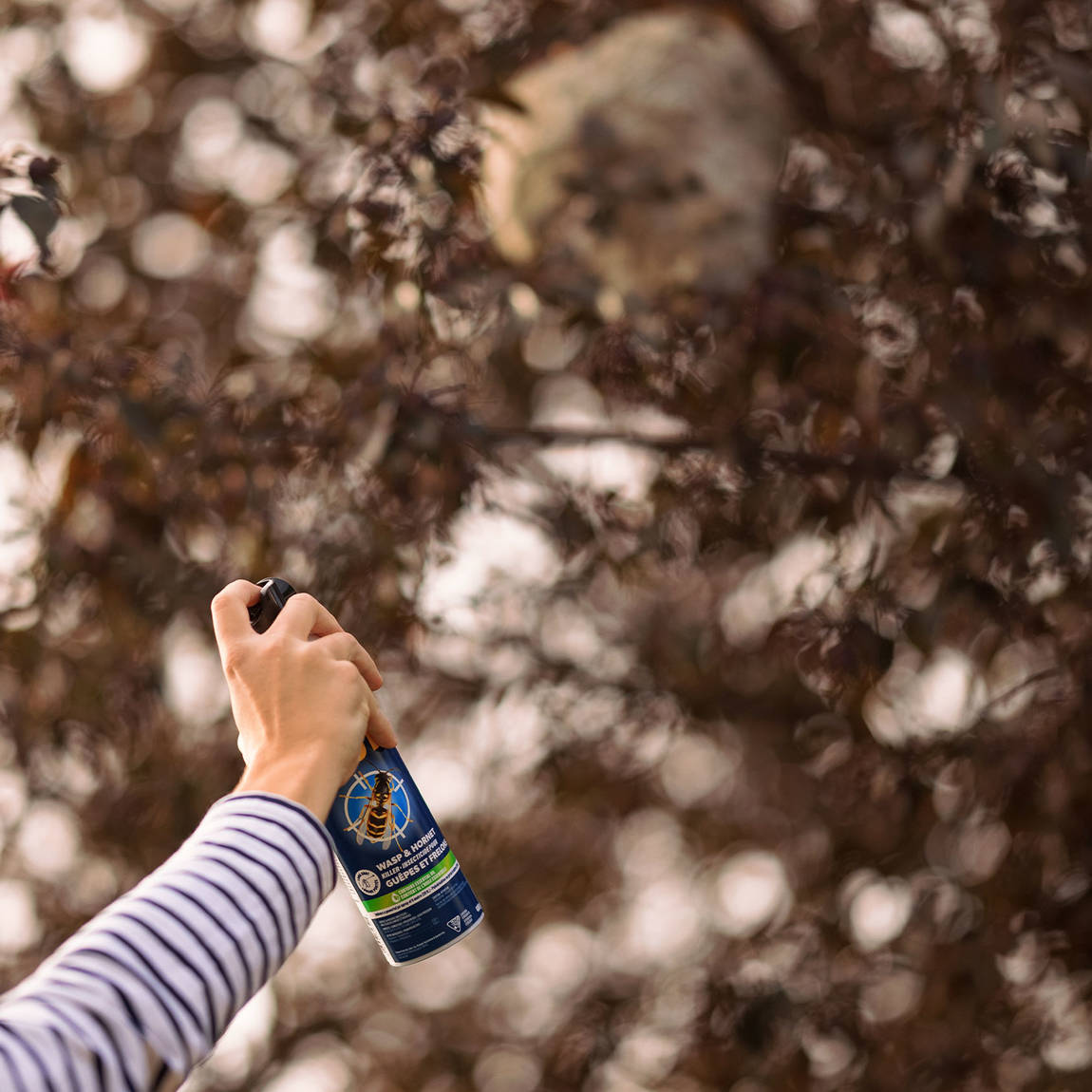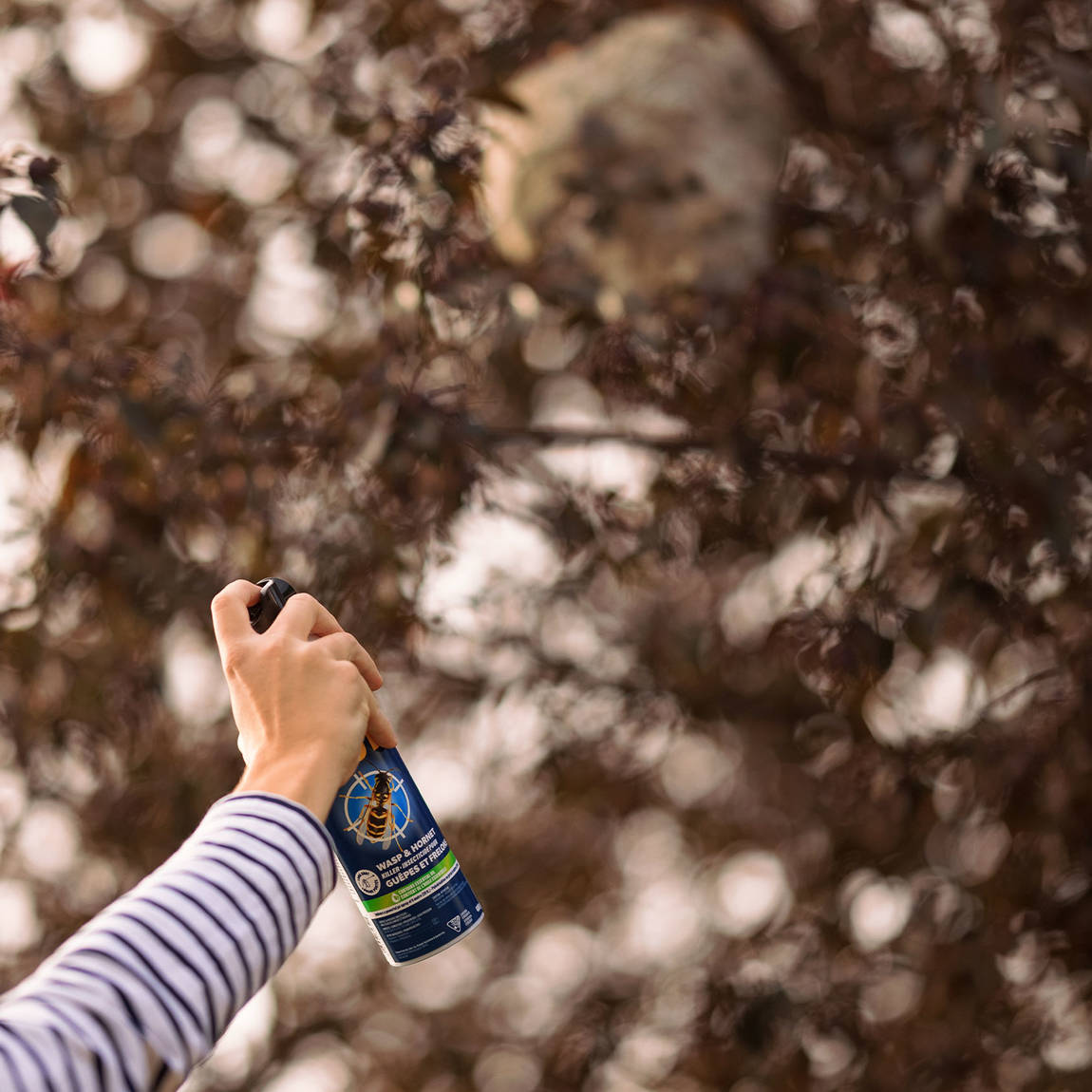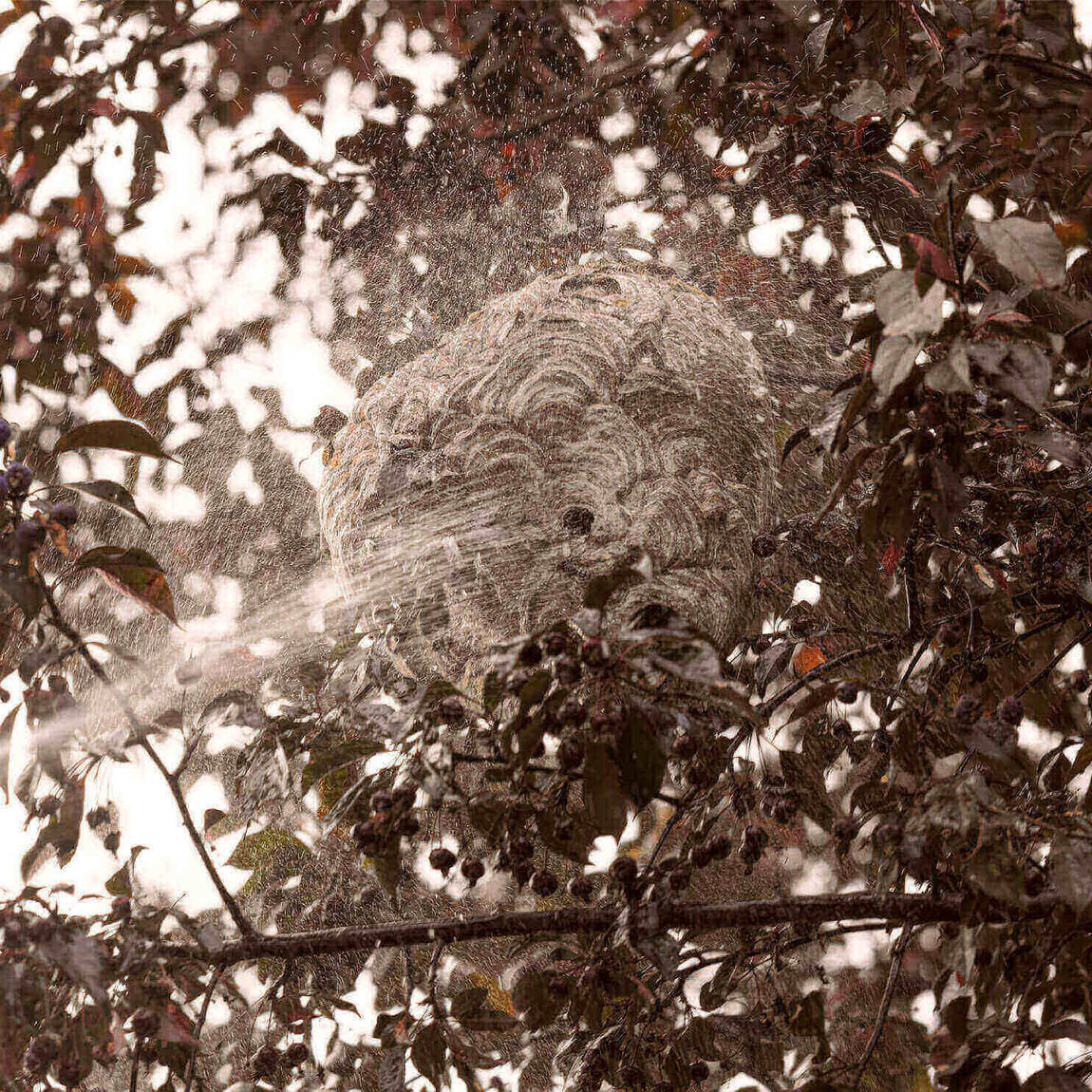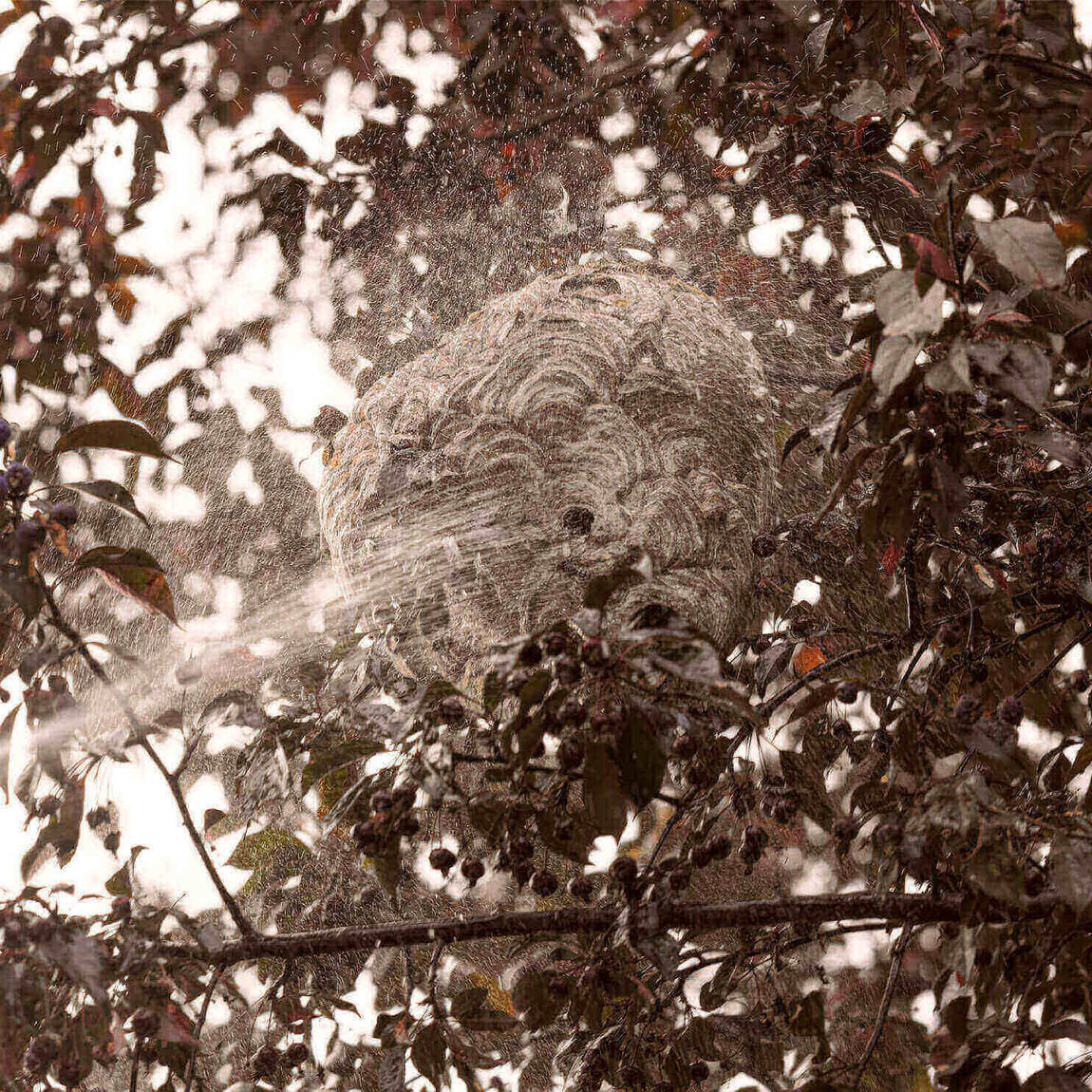 Wilson® WASP OUT™

Wasp & Hornet Killer
Former name: Wilson One Shot Wasp & Hornet Killer
Take the sting out of wasp, hornet and yellowjacket infestations. This easy-to-use and ready-to-use aerosol spray can be used at distances as great as 6 m (20 ft). It kills these nasty pests on contact and through residual action. When used as directed, entire nests should be rendered uninhabitable within 48 hours.It also contains peppermint essential oil that leaves behind a pleasant mint aroma.If you believe that the only good wasp is a dead wasp, this is the product you need.
KIlls wasps, hornets and yellowjackets on contact
KIlls wasps, hornets and yellowjackets on contact
Residual effect kills insects returning to nest
Residual effect kills insects returning to nest
Nest can be sprayed from safe distance - up to 6 m (20 ft)
Nest can be sprayed from safe distance - up to 6 m (20 ft)
Nest can removed 48 hours after spraying
Nest can removed 48 hours after spraying
For use outdoors only to treat nests under eaves, near window frames, doorways, carports, picnic areas and outdoor play areas, or anywhere nests are built.
Not for use against nests located underground or in voids.
Step 1
Shake can well before each use.
Step 2
Aim actuator at the opening in the nest. Do not stand directly underneath nest.
Step 3
Hold can upright and push button to spray until nest is saturated.
Step 4
After 48 hours, remove the treated nest wearing gloves.
Tips
Spray nest at sunrise or sunset when insects are least active.
Stand a safe distance from the nest from 5-6 m (16- 20 ft)].
Saturation of the nest is required for control.
Spray only if there is no wind or breeze.
Avoid spraying vegetation directly. Rinse with water any desirable foliage that is contacted with spray.
Warnings
Pre-test siding. Evaluate 30 minutes after test application for potential staining. Never apply to vinyl or aluminum siding while exposed to direct sunlight or during the heat of day. Avoid application to asphalt roofing shingles as staining may occur.
Do not apply directly to plants, humans, pets, or contaminate food, food containers, utensils or food preparation areas.
Do not place in hot water or near radiators, stoves or other sources of heat.
Do not use this product in or on electrical equipment due to possibility of shock hazard.
Environmental
Do not apply to plants since it is toxic to bees and bees are necessary for pollination.
When container is empty, press valve to release all remaining pressure.
Wrap and discard empty container in household garbage.
Do not puncture or incinerate.
Store in a cool dry place away from heat or open flame, preferably in a locked storage area. Do not store at temperatures over 50 ºC.
For additional product information or in case of emergency, spills or fire, call toll-free 1-800-268-2608.
General precautions
Keep out of reach of children.
Wash hands thoroughly after handling and before smoking or eating.
Environmental: toxic to aquatic organisms, birds, bees and beneficial insects.
Hazards to humans
Can cause irritation to eyes. Can be harmful if ingested.
If on skin or clothing
Take off contaminated clothing. Rinse skin immediately with plenty of water for 15-20 minutes.
If in eyes
Hold eye open and rinse slowly and gently with water for 15-20 minutes. Remove contact lenses if present after the first 5 minutes, then continue rinsing eye.
If swallowed
Have person sip a glass of water if able to swallow. Do not induce vomiting unless told to by a poison control centre or doctor. Take container, label or product name and P.C.P. Registration Number with you when seeking medical attention.
If inhaled
Move person to fresh air. If person is not breathing, call 911 or an ambulance, then give artificial respiration, preferably mouth-to mouth, if possible.
In every case, call a poison control centre or doctor for treatment advice.
Tetramethrin 0.20%
d-phenothrin 0.20%
Frequently asked questions
Aim the spray towards the nest and saturate it. WASP OUT Wasp & Hornet Killer contains an instant killing insecticide that kills on contact. Also to be used for spraying individual pests outside the nest.
It is an immediate-kill product. There is a short residual effect that will kill all insects in the nest within 48 hours.
It kills wasps and hornets immediately.
Yes, with its fast- killing action. It is best to spray either early in the morning or late in the day, when most of the wasps and hornets are nestled in for the night. After 48 hours, it is safe to remove the nest, as wasps and hornets that were out of the nest at spraying time will not re-enter. They will move on.
The WASP OUT Wasp & Hornet Killer can be used on nests from up to 6 metres (20 ft) away - no ladder required and because of the distance, less chance of getting stung. WASP OUT Jet Foam Wasp & Hornet Killer is also used on nests but from a shorter distance of 2-3 metres (6-8 feet). The foam acts as a physical barrier, completely engulfing the nest and cuts off any wasps trying to escape. The long straw inserted into the nest allows for the foam to completely fill and saturate the nest.
Haven't found the answer to your question?
We are here to help you!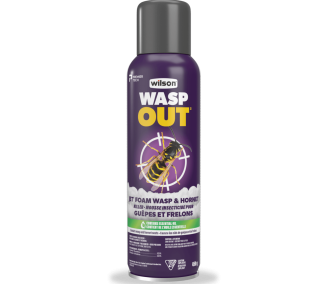 WASP OUT
Foam that kills wasps, hornets and yellowjackets on contact and makes nests uninhabitable in 48 hours.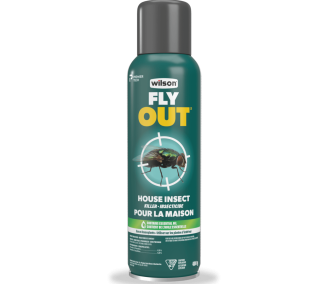 FLY OUT
Kill insects and get rid of pesky flies with this easy-to-use insect and fly-killer spray. Check Wilson's FLY OUT products now.