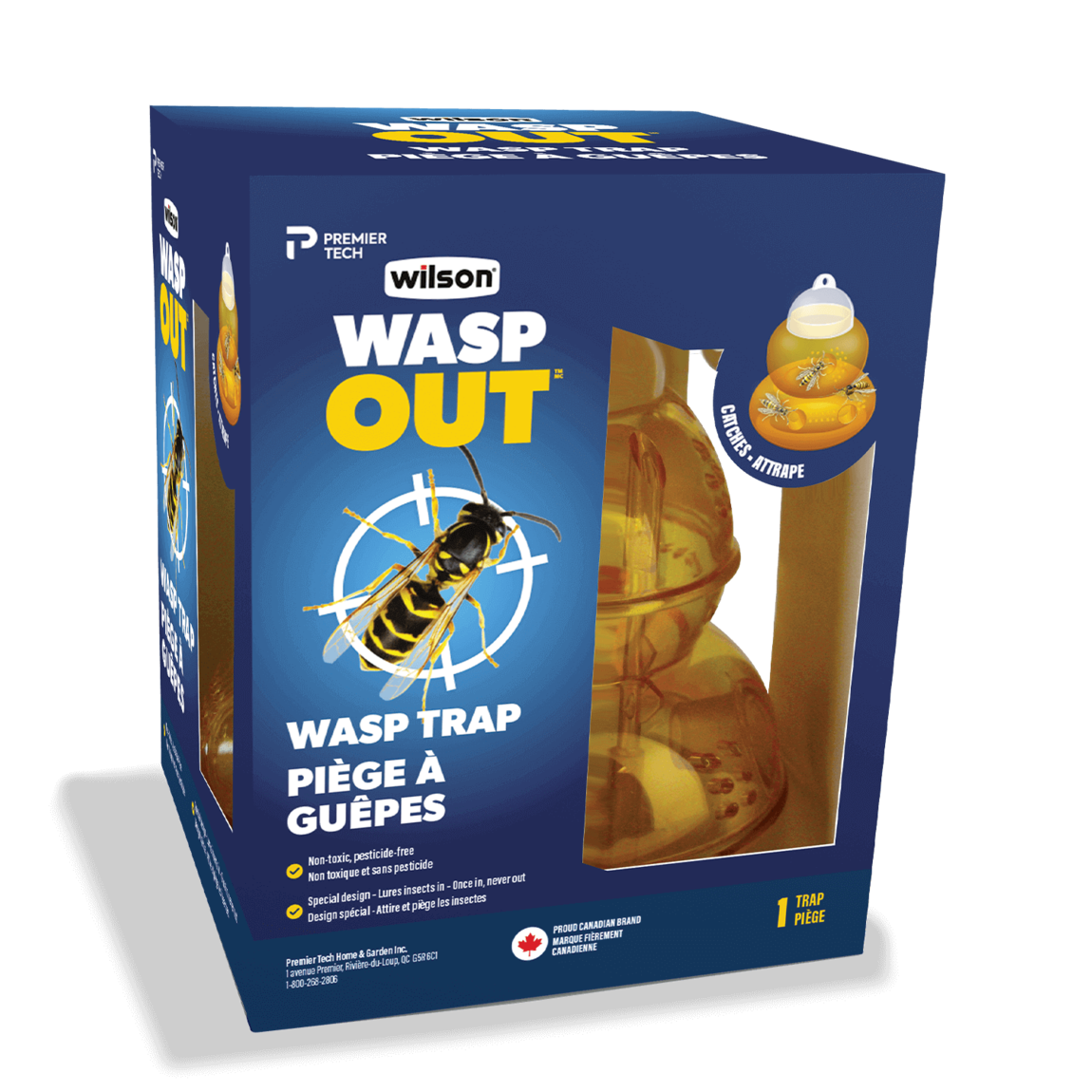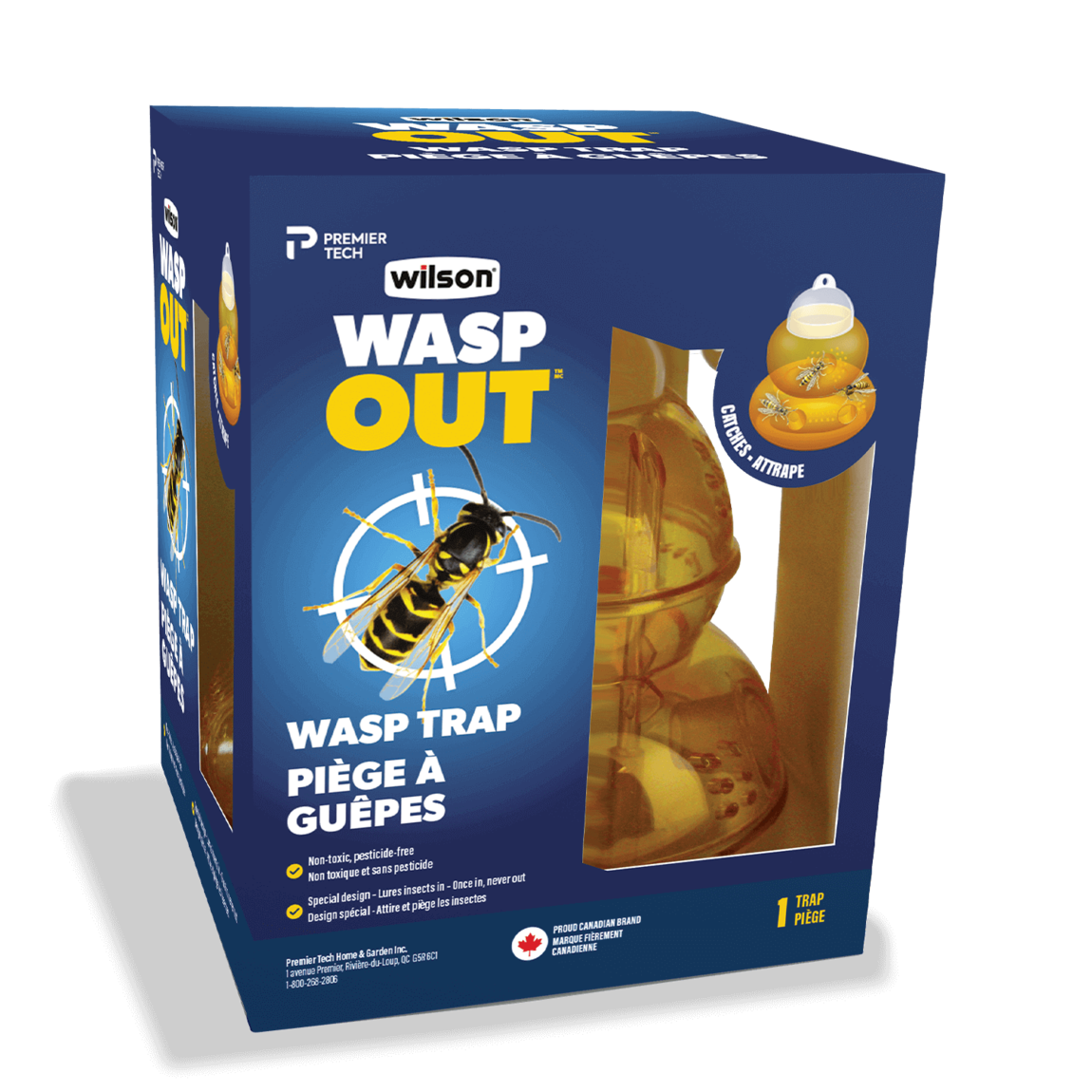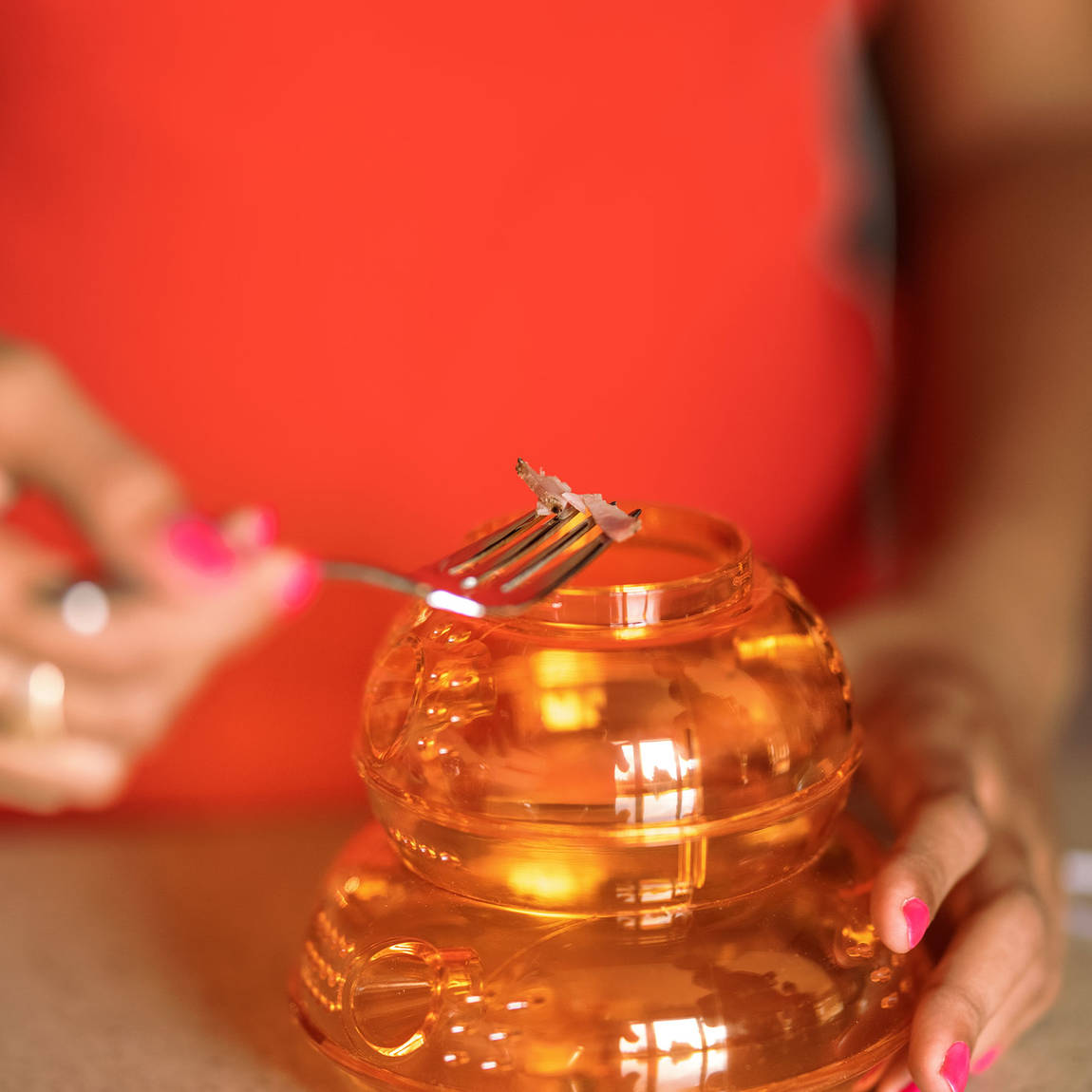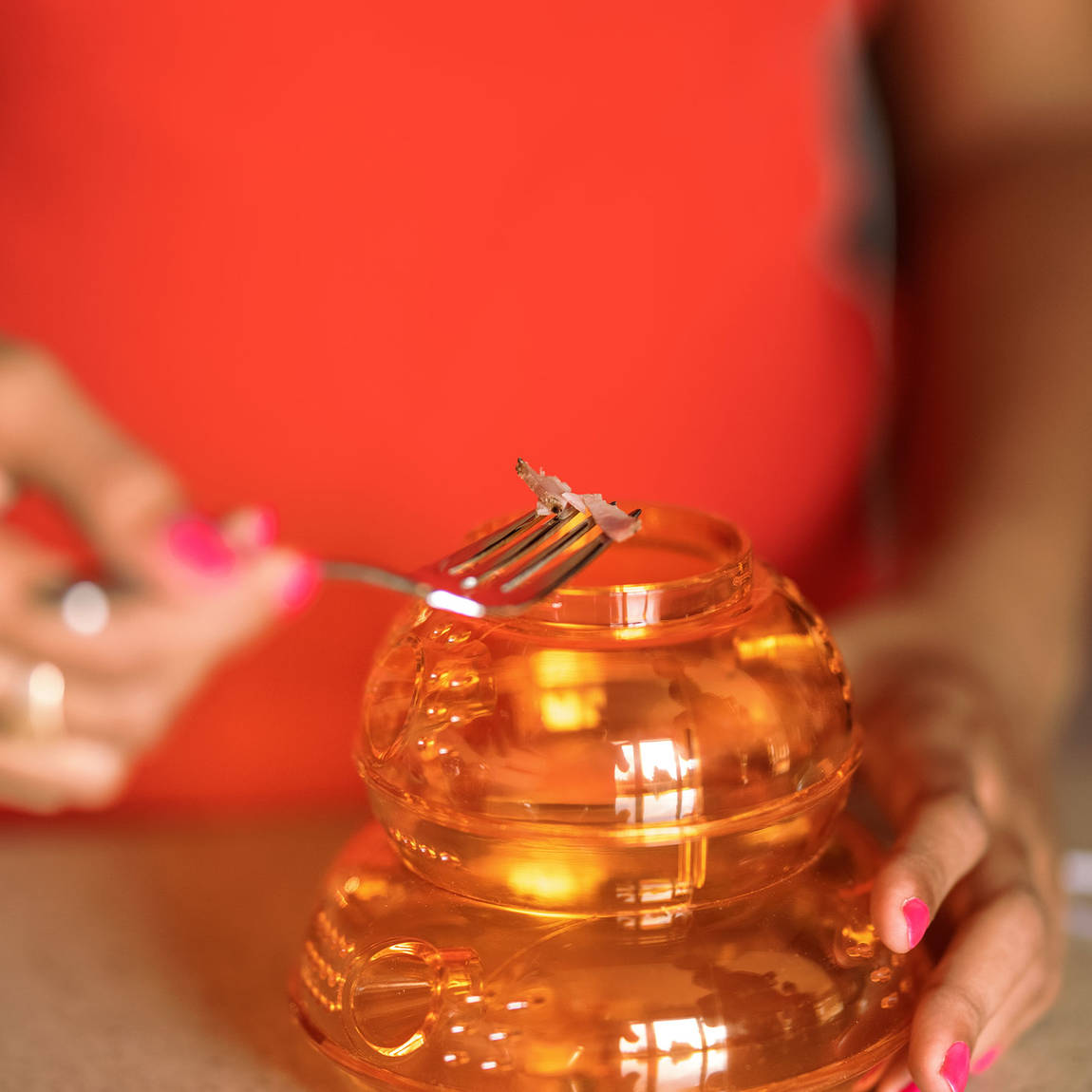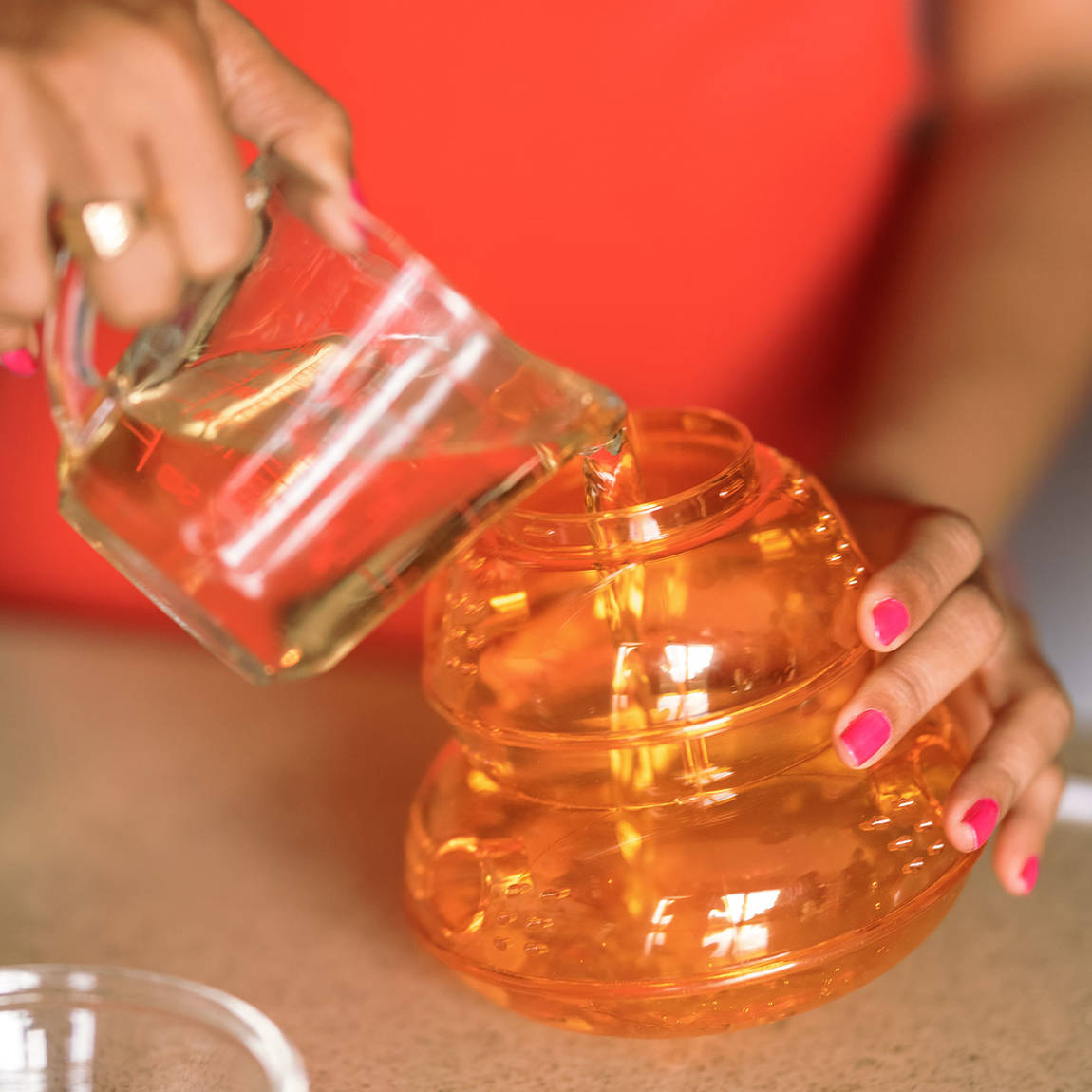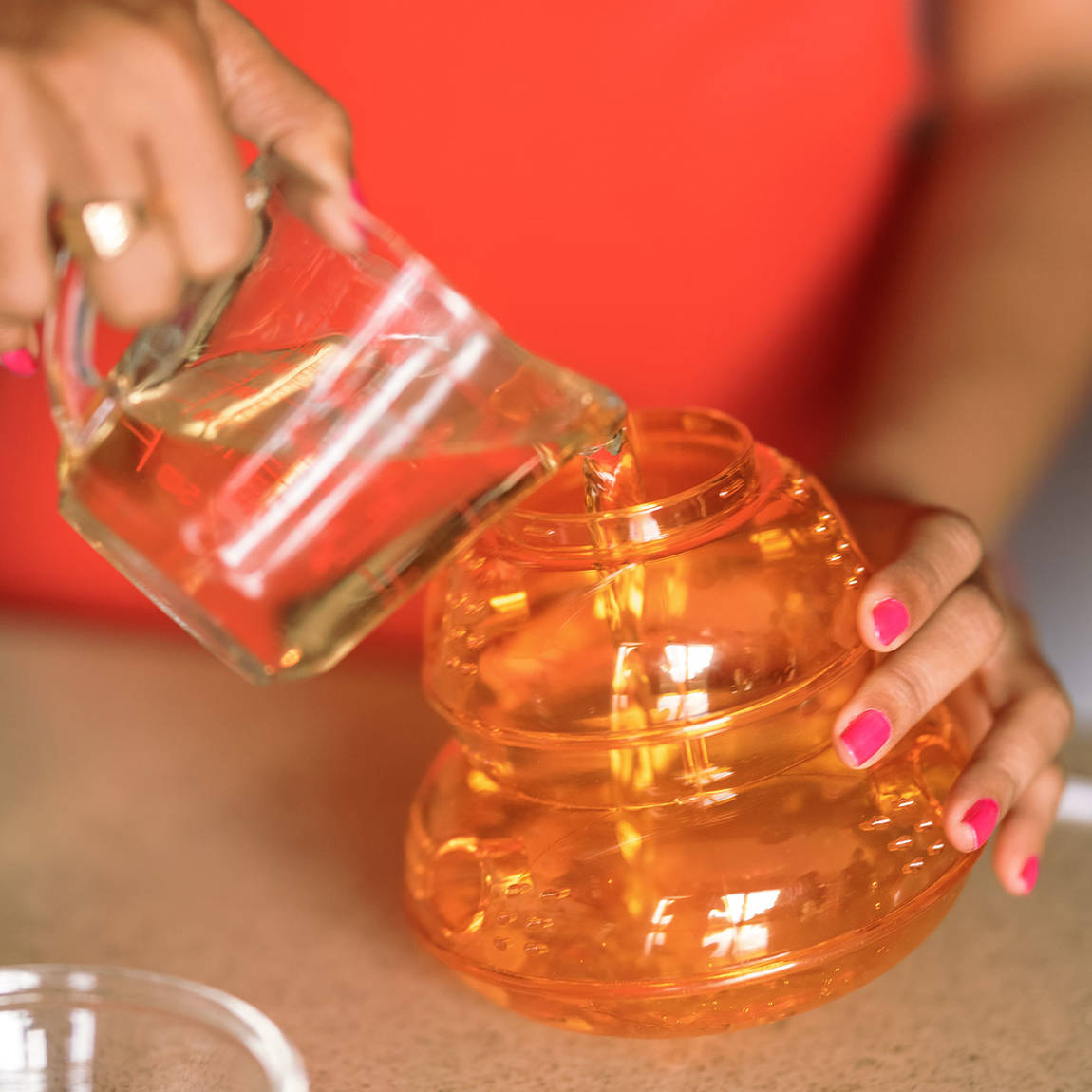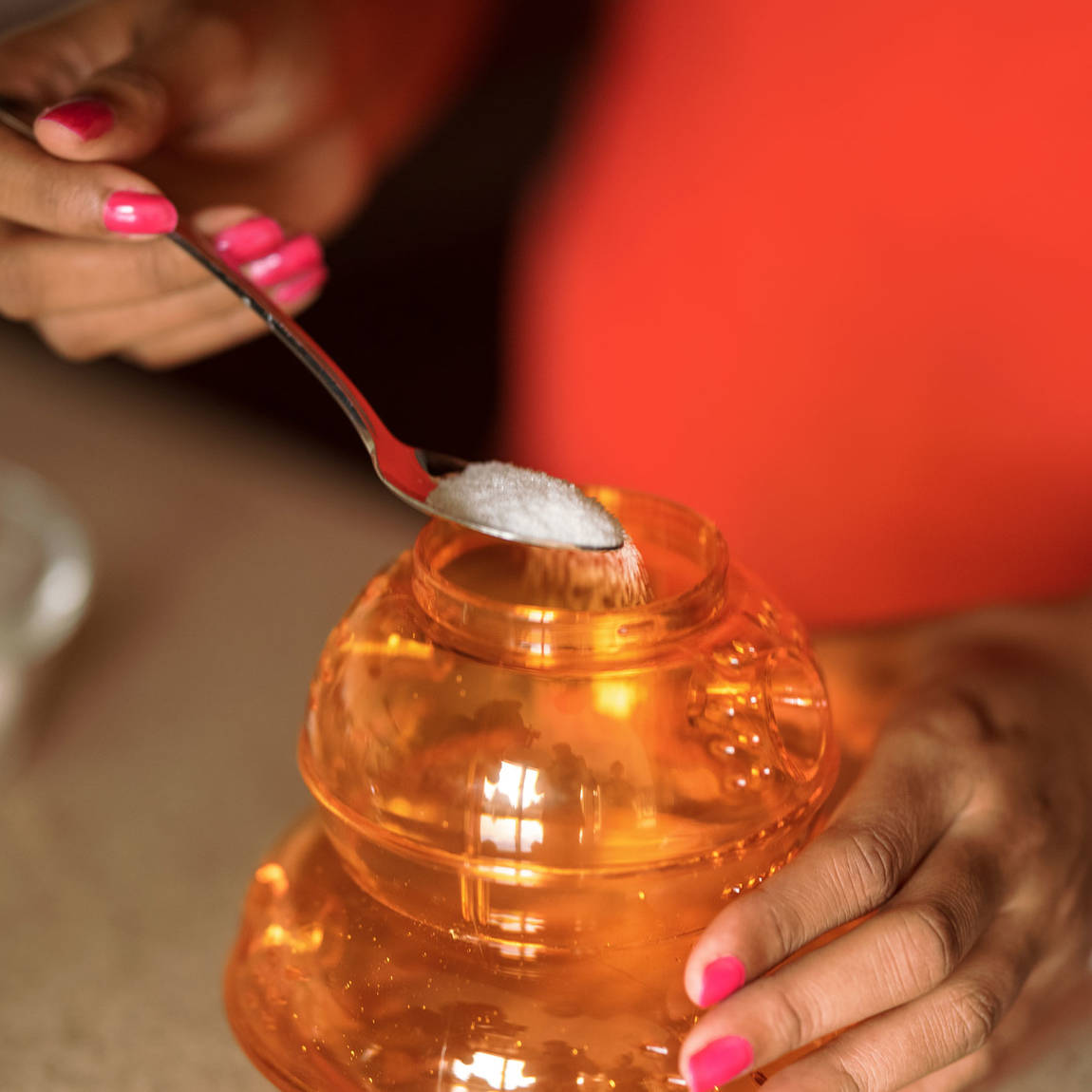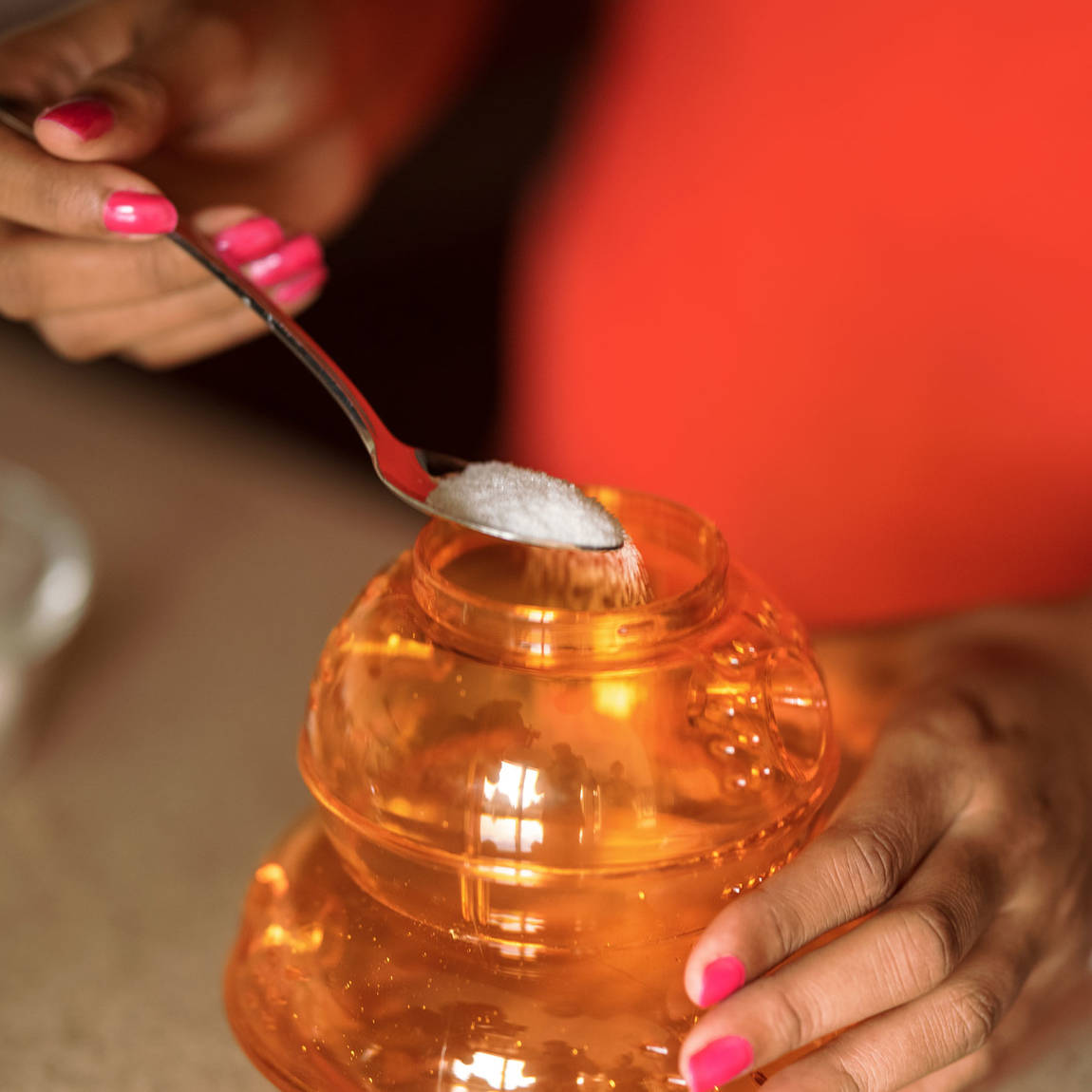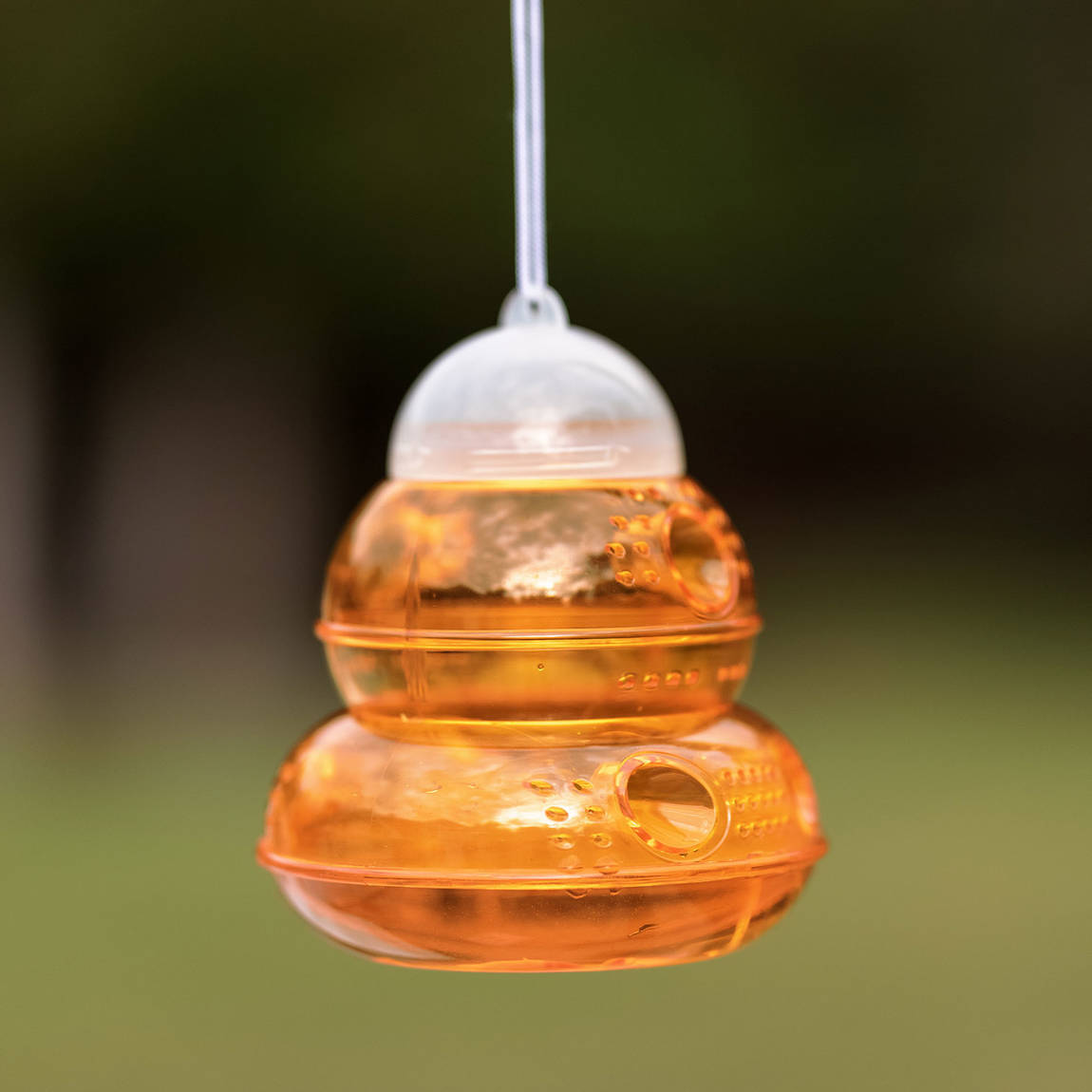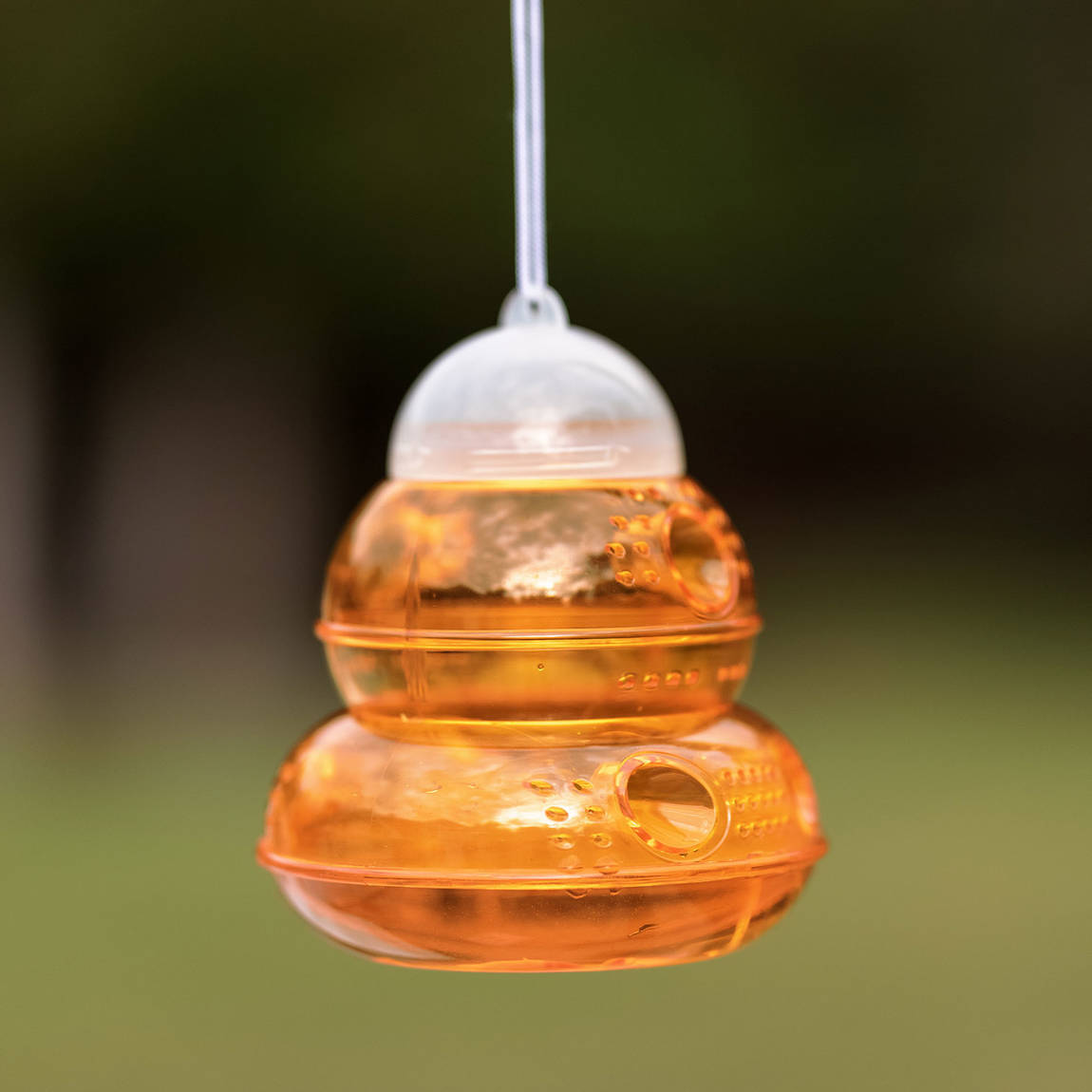 Wilson® WASP OUT™

Wasp Trap
It's time to clip the wings of pernicious flying insects around the home, This trap is very effective in controlling wasps, hornets and yellowjackets by enticing them inside and then allowing them to drown. The traps are chemical-free and can be reused again and again.
Effective in getting rid of wasps, hornets and yellowjackets
Effective in getting rid of wasps, hornets and yellowjackets
Step 1
Separate the white top from the yellow bottom with a twisting motion.
Step 2
Prepare natural bait in base:
Insert 1 or 2 pieces of raw meat, fish or cat food.
Then pour in any fruit juice (apple, pineapple, tomato) up to the bottom ring of the trap.
Add 1 teaspoon (5 ml) of sugar.
Always maintain at least 250 ml (1 cup) of juice in bottom of trap for effective drowning of trapped insects.
Step 3
Replace the top and attach securely to the yellow bottom.
Step 4
Hang the trap with the provided string.
Cleaning the trap
When there is no fruit juice remaining, it is time to clean trap.
Step 1
Immerse and fill trap with hot water to ensure all insects are drowned and none are moving.
Step 2
Unscrew the base and empty contents into garden or into a plastic bag and then into garbage.
Step 3
Rinse trap with hot water, drain, rebait, reassemble and use again and again.
Tips
Placement of trap
Place the trap in early spring at first sight of wasps or yellowjackets to catch the fertile queen and prevent the formation of a nest.
Perfect for campgrounds, backyards, picnics, barbecues, pools and decks.
Warnings
Insects can sting. Keep the trap out of reach of children and pets.
Frequently asked questions about Wilson WASP OUT Wasp Trap
The bait entices wasps and yellowjackets to enter the trap.The points of entry are formed like funnels to allow the insects to crawl inside the trap, but they are too small for them to exit. The hornets and wasps are then stuck inside the trap, where they either get caught and drown in the attractant liquid.
Yes since it is an all–natural method of capturing wasps and yellowjackets, with no poisons involved. The traps need to be hung, out of reach of children and pets.
The trap is made to be reused over and over again. Keep topping up the juice. Periodically, empty the contents, rinse and re-bait.
If wasps and yellowjackets are seen, hang the trap in that area. The traps will attract them right away. If no activity is seen after a few days, move the trap to another location.
Yes, WASP OUT Wasp Traps are really effective. The natural bait you have prepared is one of the best attractants possible. Sterile female yellowjacket workers feed only on sweet juice and look for proteins to carry back to the nest.
Haven't found the answer to your question?
We are here to help you!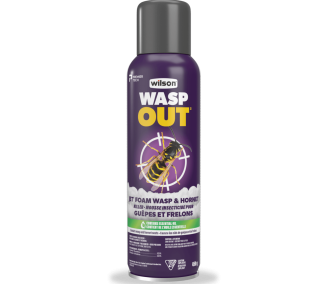 WASP OUT
Foam that kills wasps, hornets and yellowjackets on contact and makes nests uninhabitable in 48 hours.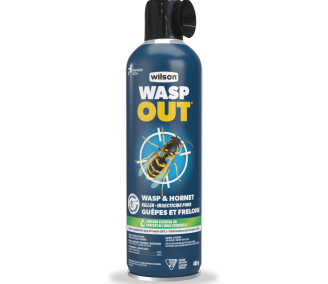 WASP OUT
Ready-to-use and easy-to-use aerosol spray that kills wasps, hornets and yellowjackets from a safe distance within 48 hours.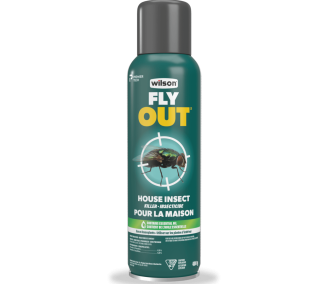 FLY OUT
Kill insects and get rid of pesky flies with this easy-to-use insect and fly-killer spray. Check Wilson's FLY OUT products now.